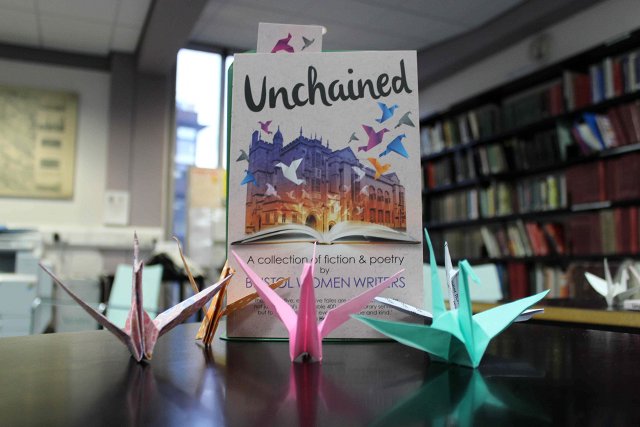 Gail Swann of Bristol Women Writers shares details of how the group decided to create an anthology of short stories and poems, from initial idea to launch.
Four novels and a poetry book either published or in the process of, within roughly two years. As a writers' group, we were thrilled for those authors and proud that the role we all play within the group had helped them to succeed.
Whilst it came in a spate, such accomplishment had been a long time in the making, not without low points, self-doubt and disappointments along the way. We reflected, before we took our summer break in 2012, that our writing group had 'earned its stripes'. Yet we had done it so quietly. Bristol Women Writers is over 25 years old, but who in Bristol knew about us?
Of course, with published work comes the hard graft of promotion. We watched our authors invest much time and creative energy into PR, marketing, web and social media. Bristol Women Writers itself had never done any of those things. We had no voice.
Find the theme for your anthology
So, fresh with new term enthusiasm, September 2012 saw us debating the idea of a collaborative project for the first time in the group's history. There were ten of us in the mix, so generating content shouldn't be a problem but we needed a 'hook' for the collection – both to inspire us and to make the book more widely appealing than a writing group anthology might expect to be.
'Anniversaries in 2013', someone suggested, 'what are they?' The one that stood out was the 400th anniversary of Bristol's original chained library. Unanimously, we agreed on our theme and Unchained was born.
Use your contacts
Some of us had contacts within Bristol Central Library, so were quickly referred to the lovely Reading Manager, Andrew Cox, who invited us on a guided tour of the building in October '12. The library building is imposing and atmospheric. Its architecture, history and tales of the people that have used it and worked in it over the years, provided plenty of fodder for our collective imaginations on that memorable evening.
Fodder of a different kind (soup and cake) at Jane's followed, over which we avidly discussed our fledgling project. Suddenly it was real, it was going to happen, but how would we manage all of the bits outside of the writing? What useful skills did we each have? Quite a few, it transpired.
Delegate according to skill
With business experience, I was happy to project-manage and made a checklist of considerations. We held an all-day workshop that brought everyone together for discussion and to give some indication of what we planned to write. We didn't want 10 short stories set in the library archives, for example. Not that we needed to worry; in typical BWW fashion, each person had very different ideas about how to interpret the theme.
We asked acclaimed local writer Tania Hershman if she would read and endorse the collection for us (assuming she liked it!). Tania had been a guest author at one of our meetings and is a great advocate of the short story. She was heartily supportive and her willingness to associate herself with Unchained was a great boost.
Although we had planned to self-publish the book, I started to wonder if we could interest a local publisher. Tania's book, My Mother Was An Upright Piano, is published by Tangent Books, specialist in local history and popular culture, both fact and fiction. It was an obvious 'home' for Unchained. Happily, Richard Jones, Tangent's chief, thought so too. We sorted out the business end and agreed critical dates. BWW and its authors' credentials seemed to be enough for Tangent to trust our ability to deliver the book, edited and ready to publish. It was up to us now to do just that…
Find your cover artist
Attention turned then to cover design. A captivating cover makes a big difference to how a book is perceived and very likely to how many are bought. Tangent has some good book covers in its portfolio, so we got in touch with the designer responsible, Joe Burt of Wild Spark Design. I met Joe in a bar (one of those I'll be wearing a white carnation moments) and talked him through the Unchained project.
From just this one conversation, Joe sent over a stunning design concept a few days later and all ten Unchained contributors loved it from the outset. The uplifting image of the paper birds flying from the open book, with the Bristol Central Library building in the background has become iconic, both to the Unchained book and to the 'writers unchained' public image that BWW now has.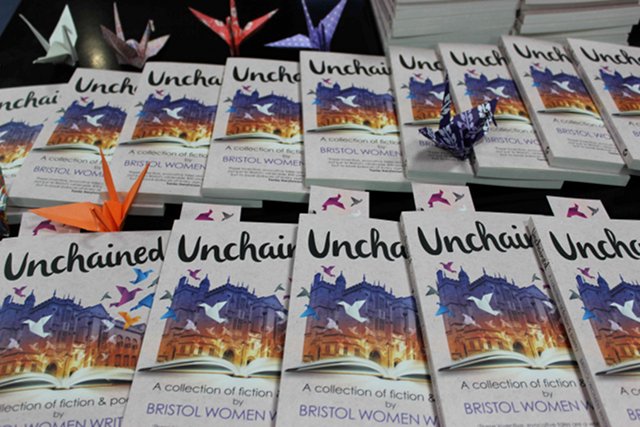 Whilst the graphic was an instant hit, we put poor Joe through the mill as we ummed and ahhhed about our own wording on the cover, which went through a series of iterations. Joe also designed the inner layout of the book including the 'in-between the stories' pages where we have a tonal image of the library, fascinating historical facts about it, and a Haiku poem.
Consider your funding
There was, of course, some financial consideration in birthing this book-baby of ours. Gone are the days when small publishers can fund everything up-front and of course, good design costs money. The members of BWW were serious about creating a quality product and so we each contributed a calculated sum to fund it. Our motivation is to be read, recognised and respected, both as individual writers and as the BWW group, not to make money, so although we hope to recoup our contributions once book sales break even, anything over and above will go to a charity.
We chose the National Literacy Trust, whose aim is to increase literacy levels in the UK – 'transforming lives through literacy'. All of us in BWW are fortunate enough that books and libraries were a part of the fabric of childhood, so we can't applaud this charity enough for the work it does for children (and adults) for whom this is not the case.
Get writing!
By early spring we had all written at least one story. We held another workshop day and embarked on the most stringent and intense critiquing session BWW has ever facilitated! We also decided that appointing a team of three expert editors was the best way to approach the enormous editing task that lay ahead.
Gamely, Jane, Sally and Shirley sacrificed themselves (and a lot of time over the following months) to the cause. Their proficiency and attention to detail was outstanding. I was quite bewildered at the extent I was constructively coerced to tweak and hone my short story, but as a result I am happy with every single word, and that's a good feeling.
So, finally, we hit 'send' and off went the manuscript, via Joe, to a printer in Scandinavia.
Spread the word
So, what next? A website, of course, and Facebook, Twitter, spreading the word, organising the launch event… there was still a whole lot left to do!
Ali did a brilliant job of building us a WordPress site. We launched writersunchained.wordpress.com and the associated social media, in summer '13, with just a few months to publicise the book before its official launch. The online side of things is time consuming, and has been a steep learning curve for some of us. We've taken turns to write blogs for the site, and continue to try and keep lots of fresh content feeding in.
Hold a launch
The final 'biggie' in our collective journey was the launch event at Bristol Central Library on October 23rd 2013. We were thrilled that Bristol Festival of Literature had included our launch as an event in the festival programme and promoted it widely. We drew on Jenni's PR experience to write our own press release and circulate it as widely as possible. The event took place in the grand Reading Room at the library and, as it was open to the public, we had no idea how many people would attend. Jane had worked out the order of proceedings: who would talk when, how long readings would take, etc. I don't think it's an exaggeration to say we were all quaking with nervous anticipation!
Following lively warm-up contributions from Andrew, Richard and Tania, we spoke about the background to Unchained and the library connection, and read from the book to an audience of circa one hundred people. It was a magical evening and a fitting end to a year of planning and hard work. We were even invited to do a couple of radio interviews soon afterwards. We are very proud of our achievement and the positive feedback we have so far received on Unchained. It's gratifying to see our book being bought by libraries, on sale in various Bristol book stories, and available to buy online.
So now BWW has put itself firmly on the Bristol writing map, has an online presence, and in a way, its own unique brand, 'writers unchained'. So what next? Well, we do have some emerging ideas about that, but for now we all need a good run at our own writing projects (got a bit of catching up to do!). So keep an eye on us, and in the meantime we hope that many of you will get to read and enjoy our book.
Read a review of Bristol Women Writers' Unchained anthology.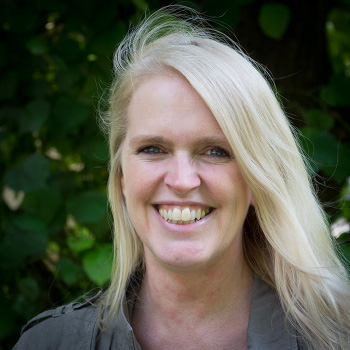 About the author 
Gail Swann is an owner/director of a Bath based graphic design company and mum to two teenage girls. She completed a novel, One Of The Few, landing herself an agent and some flattering rejections before conceding to the demands of babies and business for a few years. This 'midnight oil' period produced an assortment of shorter work but she lacked the time to try and do anything with it! Gail is now full steam ahead on a brand new novel and is also co-ordinating the Unchained project and the BWW group's emergence (and hopefully her own!) into a more public light.