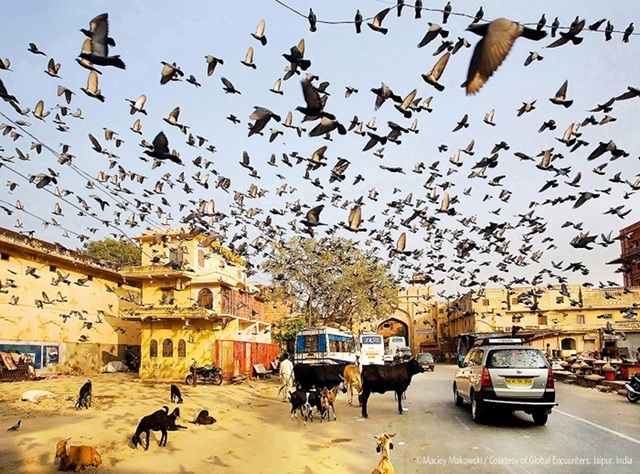 It's always interesting to see one piece of creative work inspired another, in this case a photograph inspired by a vintage film.
This glorious image is by Maciey Makowski and is one of the monthly winning shots chosen by The World Photography Organisation (WPO) and luxury cruise line Celebrity Cruises in their monthly 'Global Encounters' competition.
Maciey took the photo on the outskirts of Pink City, Jaipur, India. I love the power and energy in the image, and the sense of transience.
"I was just hanging around, walking out of beaten touristic paths, and reward came," says Maciey. "While I was walking through one of the gates of the city, I noticed big clouds of birds. I just released the camera shutter instinctively and three seconds later the magic of this moment just gone. I named it Soul of Sir Hitchcock after one of my favourites movies."
And yes, those birds, looking stunning as they do, are humble pigeons!
You can take this prompt in any direction you like – imagine the story behind this particular scene, draw inspiration from a well-known film and apply it to what you see in your own neighbourhood, or seek out the magic in the most unassuming of creatures.
There's still time to enter the photo competition too, which encourages photographers to capture and share their shots from across the globe. The monthly competition is open until 31 January 2015. Find full details here.
If you write something prompted by this, please let me know by sending an email to Judy(at)socket creative.com. With your permission, I'd love to share it on SkyLightRain.com.