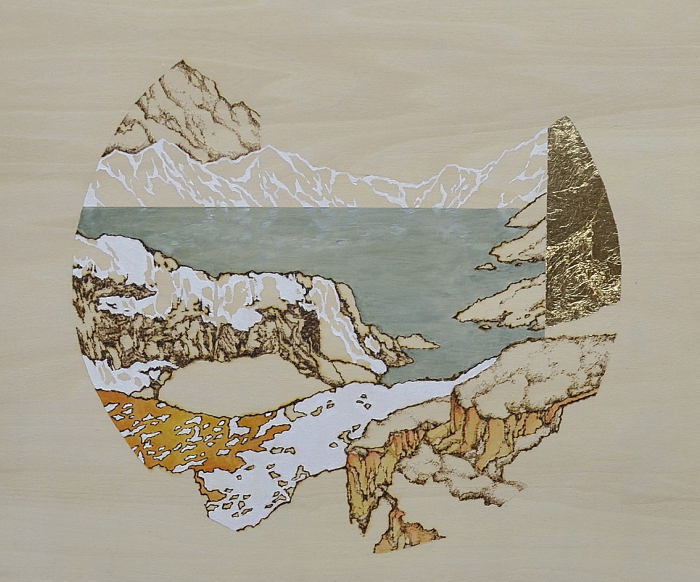 Sometimes an artist's power lies in their prowess with certain techniques and materials. With accomplished pyrographer Michelle Loa Kum Cheung, that's certainly partly true, as she commonly works with heat on wood. However, it's her rarity of vision that elevates Michelle's art to the status of truly covetable. By recreating rural and coastal scenes in her own precise way, she converts our familiar world into something otherworldly, revealing the precious and fragile beauty of our planet.
Michelle takes her unique viewpoint almost for granted. "As with most young people, I was a creative child who liked to make things out of paper and draw," she says. "This fascination with analogue, tactile techniques endured throughout university, where I completed Honours in Fine Arts in Australia at the University of New South Wales. After finishing my undergraduate degree, I travelled for the first time to Europe to France, Italy and England and was so drawn to the art and culture that I have now been based in Europe for the past five years."
Michelle's intricate use of pyrography – using heat as a drawing medium – is particularly impressive.
"I am so fascinated by pyrography as a way to make a mark, and find it very different from the conventional two-dimensional mediums of pencil and paint," she says. "I first started the technique shortly after finishing university, where my focus had been on trees in the environment as an exploration of phenomenology where I was interested in the science of conscious attention to the surrounding environment."
Following that period, which she describes as "fairly experimental", Michelle began investigating wood instead of canvas, and developing her understanding of its potential "as a naturally burning material."
The proves captivated Michelle. "Pyrography requires a lot of attention, focus and delicacy, which I love," she says. "There is also an irreversible element as you cannot undo a mark once it is made with the pyrography pen, but I believe that all the marks made add to the finished product."
She finds herself returning to the same questions time and again through her artwork. "What peaks my interest and forms a lot of the ideas in my art practice is the angst of not knowing and desire, memories and nostalgia, particularly memories which aren't my own and fabricated nostalgia for places that I've never been," she explains. "Moving from Australia and interacting more with old family photos as a result led to me exploring the concept of displaced heritage."
Michelle is also exploring the Chinese concept of shan shui. "My understanding of shan shui is that a realistic depiction of the landscape is not as pertinent as how the artist perceives it, emotionally and mentally," she says. "Focal points and perspective function differently in traditional Chinese landscape painting than in Western art. Looking into Chinese mythology has also introduced me to Chinese utopia and mythological mountains and landforms which represent an idyllic world which could exist concurrently to ours but which is, as yet, unmarred by human interaction."
As a very visual person, Michelle says "Each new piece is generally inspired by something I have seen personally or a memory which I have ingested second hand through someone else, whether their own recent memory or an old family memory, before I was even born. I try to walk every day and even moving through my environment in a casual manner not only brings new visual inspiration but also clears my mind for imagining."
Michelle says her personal favourite artwork is Danxia No. 1. "It was one of the first circular paintings I have done, and in fact one of the first paintings since permanently relocating to London," she says. "Dana refers to the naturally occurring red landforms in the Zhangye Danxia National Geological Park, which for me hold resonance with the Chamarel Coloured Earth in Mauritius, where my parents were born."
Once she has an idea for a fresh piece of work in mind, Michelle's creative process is precise. "There are certain works where the mark making is very planned, usually if I am combining paint and gold leaf, because the preparation of the wood and intentional empty spaces dictate it," she says. "In this way mistakes can be particularly unforgiving. My art book is a combination of rough sketches, finished sketches and measured grids. For these artworks, it is important for me to pre-visualise the structure."
However, the colour is usually applied instinctively, while many pieces are almost entirely intuitive. "It surprises most people that the most intricate pyrographic works on wood and paper which are usually monochrome have the least planning – close to none. There are no mistakes in these works, just the continuation of form."
The beginning phase of the artwork spans from the design process right up until Michelle has filled in the first layers, "whether that be of pyrography or paint. Generally I will do most of the pyrography first as the foundation and switch to the paint. Once these areas have been blocked in, contemplation starts because I tend to not plan the colouring as much as the initial structure."
The next stage requires a little more space from the actual work. "I'II sit back and stare at the painting for almost as long as I actually work on it," she says. "I usually need to leave an artwork for a few days and come back to it before realising it is complete. As artists work in such close quarters to their art, separation is definitely needed so we can contemplate what we have done and regard it from a distance."
Find out more about Michelle and her work at www.michellelkc.com, on Instagram @michelle_lkc and on Twitter @michelle_lkc
Are you an artist or do you know an artist who would like to be showcased on SkyLightRain.com? Get in touch at judydarley(at)iCloud.com. I'm also happy to receive reviews of books, exhibitions, theatre and film. To submit or suggest a review, please send an email to judydarley(at)iCloud.com.