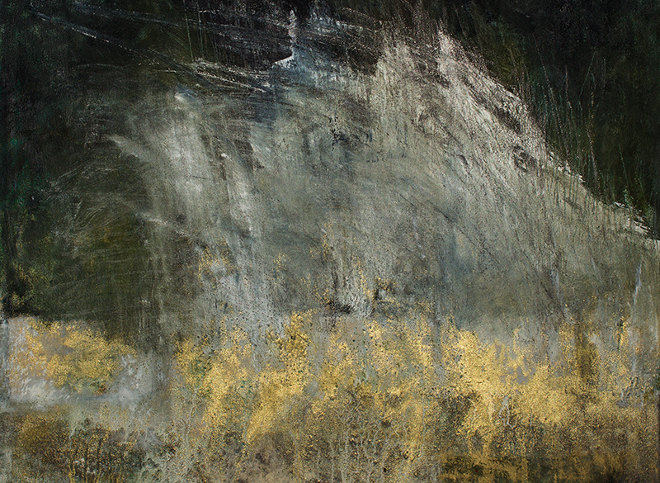 Today's guest post comes from Sara Easby, a wonderful artist, teacher and dreamer who I discovered exhibiting her Icelandic artworks at the Grant Bradley Gallery late last year. She talks us through the things that move her to paint as a means of exploring the unknown.
Drawing was always my favourite pastime as a child and I was very imaginative.
I thought I was going to be a nurse like my mother, but then when I was 13 someone told me it was possible to be an artist when I grew up. I went to Saturday morning art classes and then to the local art school at 16. It never occurred to me not to be an artist after that, and I really believed I wouldn't be able to do anything else.
One morning an artist friend Francesca Bellingierie Maxwell and I were having a coffee and we both agreed that we'd always wanted to visit Iceland and that May was the best time to go. Discovering that the moment was right we set off the following week on an impulse. This was very unusual for me, but I had got stuck with my painting and teaching, so wanted a challenge and focus. The challenge was driving all the way round Iceland. I'm a timid driver! And the focus was just simply to fill a sketchbook.
I'm not interested in copying nature, or in representational landscape personally. That's not my reason for painting. Much of my working life has been in designing for theatre and teaching people drawing, mainly life drawing so it doesn't mean I don't value those things. But painting has become a way of exploring the unknown and a kind of meditative practise I suppose.
The experience of being in Iceland gave a feeling of being right on the edge of the world and of actually becoming a part of nature. It was amazing to feel that feeling of nothing. Suddenly everything seems possible, and I came back with a lot of energy to make the series of work.
Our lives are made up of layers, so I've been exploring this in painting and drawing for ages. Earlier on this worried me thinking that each time I went back to something I was changing it because it was wrong. But gradually I realised that there was no right way, but that change was what it's all about. Eventually you have to stop a painting when it feels 'finished'. It has to stop somewhere if you want to share it with other people.
I use anything and everything to draw and paint with – anything that will make marks. This is what I was taught and what I hope to teach others to do. Oil paint is one of my favourite medium because it has a quality of deepness. I never want to be sure of the results, because, as Picasso once said, what's the point of doing it if you know how it will turn out?
I teach a lot of art workshops because teaching has always been a means to make a living. I have never had the luxury of just doing my own work. Running workshops is good because people come who want to be there and it's a way of exploring together.
It also always makes me question what I am doing. Making art is rather solitary and I like people, and you need a balance. I'm actually rather passionate about the importance of creativity in the world. It's deeply satisfying when you see people connected through making something they can do.
What I love most about my life as an artist is that you never stop learning, and I love learning!
About the author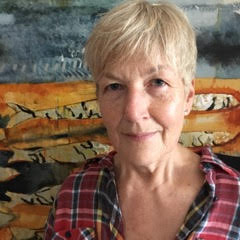 Sara Easby trained in Leeds, at the Bristol Old Vic Theatre School, and at the University of Wales Institute, Cardiff. She's worked as a designer for productions at the Royal Court Theatre, London and Bristol Old Vic, and has taught design and drawing at the Universities of Bristol and West of England as well as running workshops for students, animators, artists and anyone interested in exploring their creativity. This includes teaching life drawing to animators at Aardman Animations, originally for their training programme for Chicken Run.
All images in this post are from Sara's Iceland series. To see more of her work go to: www.sara-easby.com.
Are you an artist or do you know an artist who would like to be showcased on SkyLightRain.com? Get in touch at judy(at)socketcreative.com.
I welcome guest posts. If you'd like to get in touch, you can find me on Twitter @JudyDarley, or send me an email at judy(at)SocketCreative.com