Happy to say that my flash fiction tale Flying Ant Day has been published in A Box of Stars Beneath the Bed: 2016 National Flash-Fiction Day Anthology. Wonderful!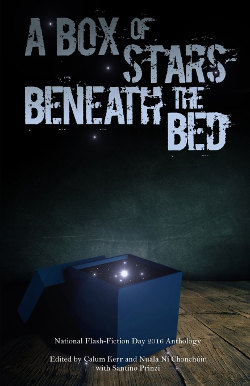 Even better, my tale is one of just 50 chosen from 500 entries. Woohoo! There are so many excellent writers on the list of those included. Definitely looking forward to reading the contributions from Jude Higgins, Diane Simmons, Jonathan Pinnock, KM Elkes and Jane Roberts.
I'll be reading my tale as part of the National Flash Fiction Day celebrations in Bristol on Saturday, at At The Well on Cheltenham Road.
To get your copy, go to the Amazon page or visit the NFFD website, where you can also discover all kinds of events happening this National Flash Fiction Day (June 25th, in case you were wondering!).
My short tale Savages has been published in issue three of Ink In Thirds magazine.
This beautiful publication describes itself as 'a magazine of poised prose, precarious poetry, and photography that makes us want to pilot our own realms again.'
Inspired by the wilderness of childhood, including glimpses from my own, I'm glad my tale has found a home here.
Read issue three of Ink in Thirds magazine here.
The opening line of Savages is:
The field has been scalped; sharp spikes are all that remain of the wheat that whispered here, green stems that leaned with the wind and hissed tickling promises as we drifted by on our way to school.
Happy Summer Solstice! Today began when most of us were still sleeping (at 4.06am, rumour has it) and the air was green and fragrant. Gorgeous.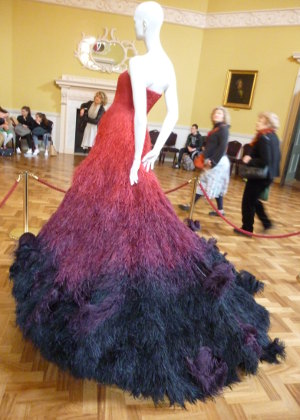 My poem Dawn Thread has been selected for a special Midsummer issue of Enchanted Conversations: A Fairy Tale Magazine. In case you don't know, Enchanted Conversations is a beautiful online journal of original fairytales, which has regular calls for submissions.
My poem came in a flurry after seeing an exquisite dress embellished by students and tutors at the Royal School of Needlework for designer Nicholas Oakwell (pictured left). The gown was hand sewn all over with more than 200,000 feathers, dyed in 18 shades of red, and made me think of the kind of tasks traditionally given to maidens in fairytales. The profusion of red made me think of the transition from girl to woman, and the feathers drew to mind several fairytales about men turned into swans, and their sister sewing them shirts to return them to their human forms.
My poetic tale offers a rather different ending, culminating at dawn on the longest day.