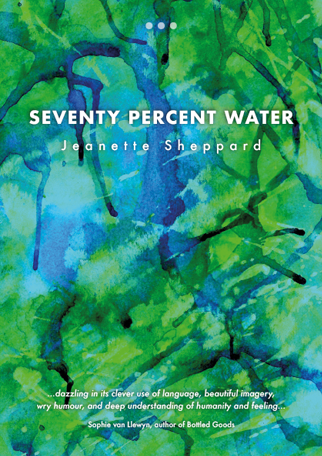 Jeanette Sheppard's debut flash fiction collection brims with sensitively perceived, reflective stories that creep beneath our surfaces, reminding us how drops of water can change a landscape, physically, aesthetically and psychologically.
These compact stories embrace big topics. The shifting boundaries of awareness linked to ageing and dementia recur throughout, like ripples spreading outwards, inexorably.
'Rattle and Spin' is a beautiful story of a woman who is growing unrooted from her sense of self, yet retains her dignity. The tale flows with steady momentum from line to line, guiding 'you' to treat this woman with the respect she has earnt and discover how much more she is than what you take in at first glance.
"Go on, sit in her chair. She will pull up a seat, make you laugh until your mouth swells ready to burst."
The last sentence is heartachingly tender.
'How to Enter Another Galaxy' is another instructional piece. This time, the subject in for exaltation are those annoyingly futile calls to corporations, while you, the caller, have one hand gripping the phone and the other juggling a cat. Naturally, the intergalactic being you need to speak to is never the one on the end of the line.