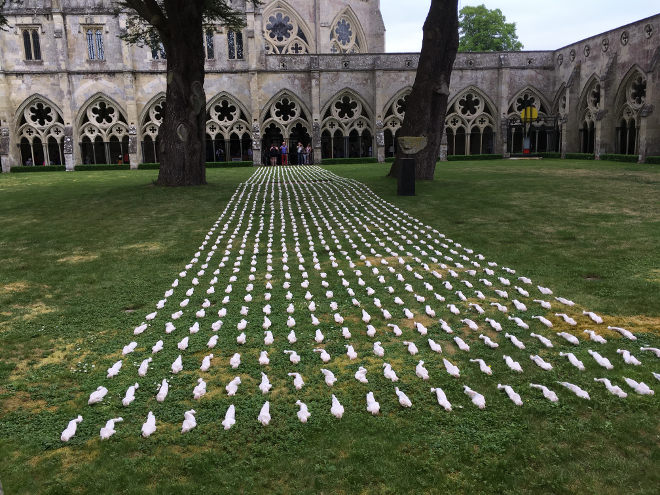 On a visit to Salisbury Cathedral earlier this summer, I encountered an unexpected sight: 1,561 miniature figures wrapped in hand sewn calico shrouds, laid out in centre of the cloister.
It stopped my friend and I in our tracks. Each of them represents a soldier killed at the Somme during World War I; the ones shown here are only a fraction of the full number being sewn and bound by artist Rob Heard. The 1,561 exhibited in Salisbury Cathedral represented each day that World War I lasted, while each shroud marks an individual who lost their life to the conflict.
It was a sobering display, and a visceral reminder of the sacrifices made through the folly of war. Powerfully moving.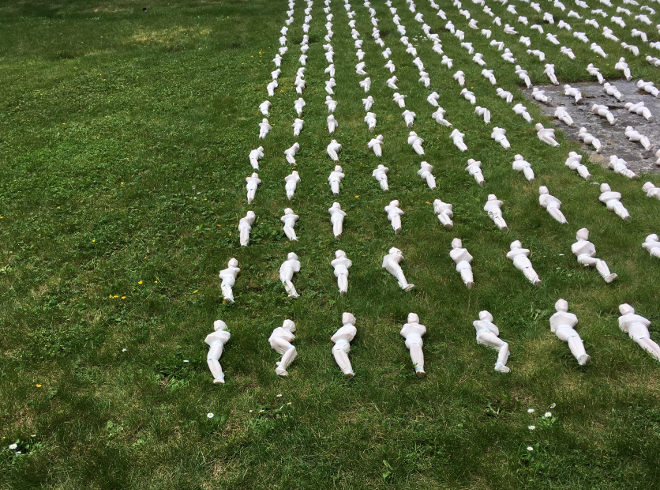 The Shroud Project exhibit has since left the cathedral grounds, and has since been on are on show in Exeter. They'll be in Belfast from 23rd August until 16th September. Artist Rob Heard has continued to work on the project, aiming to complete 72,396 shrouded figures by November 8th-18th. This immense number mirrors the total tally of bodies of British servicemen (and South African infantrymen) who have no known grave. From 8th-18th November, the figures will be laid out at London's Queen Elizabeth Olympic Park to form a focal point as the nation marks the centenary of Armistice Day.
As he shrouds each of the thousands of figures, Heard considers a name from a list of the fallen provided by the Commonwealth War Graves Commission, ensuring each is remembered and honoured through his painstaking artwork.
Find out about the Les Colomes exhibition at Salisbury Cathedral.
Seen anything interesting recently? I'd love to know. I'm always happy to receive reviews of books, art, theatre and film. To submit or suggest a review, please send an email to judydarley(at)iCloud.com.
SaveSave
SaveSave
SaveSave