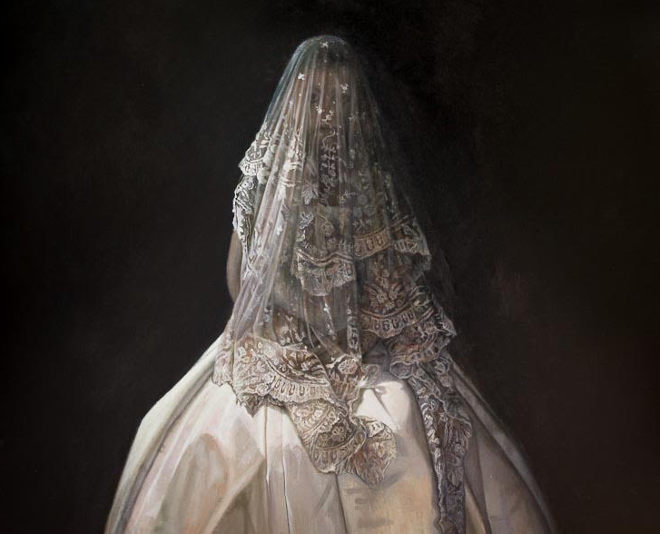 I love to run my fingertips over beautifully enticing fabrics. Artist Sophie Ploeg is playing with our tactile desires through oil paintings and pastel works that tempt the eyes instead of our sense of touch. It's a skill that's somewhat confusing at first glance, as our mind conjures memories of these fabrics against our skin, filling in the information presented by sight. In the same way that a description of food can make us salivate, Sophie feeds other more sensual urges simply through pressing colour to canvass or page in such as way that she perfectly captures the play of light and shade and the texture of draped fabric.
After growing up in the Netherlands, Sophie has made her home in England for a very simple reason. "I fell in love! During my research for my PhD, I spent a lot of time in London in various archives and libraries," she comments. "I met my British husband during these trips and decided to stay. It has been nearly 20 years now and until Brexit I could not imagine ever going back. I am completely integrated and at home here, though I do admit a preference for Dutch cheese."
Despite Brexit, Sophie is hoping to remain in the UK. "I will stay as this is my home and this is where my children are growing up," she says. "I love Britain for its love of history and its beautiful nature but I will remain a Dutchie in my heart."
A passion for art, architecture, photography, fashion and theatre have provided Sophie with the foundations of her life here, but it's her experiments with recreating lusciously textured textiles in her artwork that caught my eye.
"I was always fascinated by painting various textures and have tried to challenge myself with painting water, rocks, sand and so on," she says. "When I tried fabrics I was hooked."
To up the ante, Sophie started painting depictions of lace. "This has kept me busy for a few years now," she says. "It's still a challenge to really capture the crisp, transparent qualities of the fabric and I doubt I will ever be totally happy about my efforts. Other fabrics like velvet, silk and patterned woven or printed textiles supply an endless source of inspiration."
Her favourite materials when drawing fabrics are oil paints and pastels. "Other artists might get on better with watercolour, digital mediums, photography or even textile itself," she comments. "I love oils for its depth of colour and pure beauty. It can make the deepest blacks and the richest blues or reds. With glazing and scumbling you can create beautiful effects. It is hugely versatile and easy to use, it doesn't dry up and you can play with it endlessly."
She also loves the precision required to get the most from pastels. "They are very direct in that you cannot pre-mix colours. You have to layer colours in order to mix, which not only forces you to learn about colour but also automatically provides textures and depth."
For Sophie, fabrics are brimming with stories – lived, invented and imbued. "Fabrics are full of associations, and history," she says. "They are tactile and sensuous. They are used for fashion and home furnishings, film and theatre costumes, drapery, sails and sacks. Many people have memories evoked by clothes, many have associations with certain types of textiles. It is one of the richest sources of inspiration for me and I hope to evoke these associations in my paintings. The most lush fabrics such as lace, velvet and silk are the most fun to work with as they are so beautiful and take us to another world of history and imagination."
Winning the BP Travel Award in 2013 and having her work exhibited at the National Portrait Gallery in London has given my career a very definite boost, she says. "It was a fantastic experience to not only be included in the show and the buzzing activity that surrounds it, but to have an opportunity to really dive deeper and combine my love of art history with my love of painting," she says. "It was a proud moment to have a series of works on show at such as prestigious location."
Sophie is currently working on a new series of paintings that springing from her imagination, with some inspiration sourced from works by Old Masters. "These works are freeing me up to experiment and play a little, both of which most artists need to develop their work," she says. "I am sure this period will help me move my work onwards, and I am excited to explore where it will take me."
Sophie is also writing about art, art history and painting on my blog and for other publications, "which I enjoy immensely. Find more about me and my work on www.sophieploeg.com."
Are you an artist or do you know an artist who would like to be showcased on SkyLightRain.com? Get in touch at judy(at)socketcreative.com.