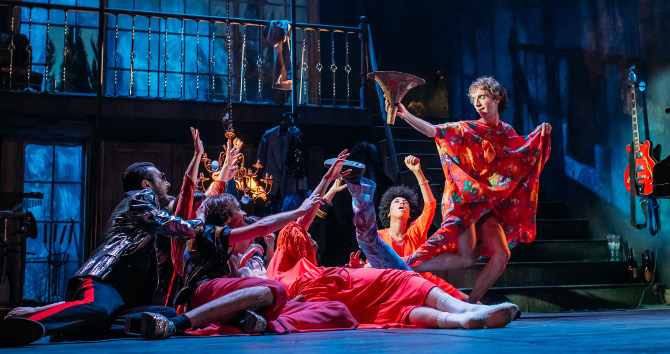 Re-envisioned amid the bacchanalia of an everlasting 1960's house party, Twelfth Night (possibly the 12th night of these revelries) at Bristol Old Vic is a colour-saturated feast for the ears and eyes.
Shakespeare's popular comedy of gender-swapping and mistaken identity makes perfect sense against this backdrop of unbridled debauchery. Director Wils Wilson has unleashed a cast of exuberant talents, where light, sound, set and movement conjure all the passion and magic of a world where love is a bargaining tool, music the food of said love, and every act fringed with mischief.
The set design, led by Ana Inés Jabares-Pita, is the first ingredient of this heady mix, creating the illusion of a grand country house, complete with a grand piano, sweeping staircase, and several holes cast members can appear through at unexpected moments. Weave in strands of soul-stirring music courtesy of Dylan Reid (sensational as wit-fuelled fool Feste), Meilyr Jones (Curio, in a pair of spectacular shocking pink trousers), and Brian James O'Sullivan, among others, and you have an audience riveted by every scene.
When twin brother and sister Sebastian (Joanne Thomson) and Viola (Jade Ogugua) are separated by a tempest that wrecks their ship, each assumes the other has drowned. Viola dresses as a boy for easier passage, so that when the two reach the same court, they are constantly mistaken for one another. Larks!
The tenuousness of this element of the plot is emphasised beautifully in the production, where each sibling is played by a woman of different races and statures. We'd effectively urged to collude with the cast in agreeing the two are identical, and choosing who appears male and who female.
In fact, their subsequent love interests, Duke Orsino and Olivia, are also both played by women, respectively Colette Dalal Tchantcho and Lisa Dwyer Hogg. The face that in this version of the play, Olivia's Uncle Toby is transfigured into her defiantly rowdy cousin Lady Tobi (Dawn Sievewright), adds to the blurring of the sexes in a most delightful way.
It's a cunning strategy, as we become part of the seductive high japes on stage. The joyousness of the performance rings out in ripples we spectators can't help but be caught up in. By the end of the show, you'll feel positively tipsy.
Production photography by Mihaela Bodlovic.
Twelfth Night is on at Bristol Old Vic until Saturday 17th November. Find out more and book tickets.
Seen or read anything interesting recently? I'd love to know. I'm always happy to receive reviews of books, art, theatre and film. To submit or suggest a review, please send an email to judydarley(at)iCloud.com.