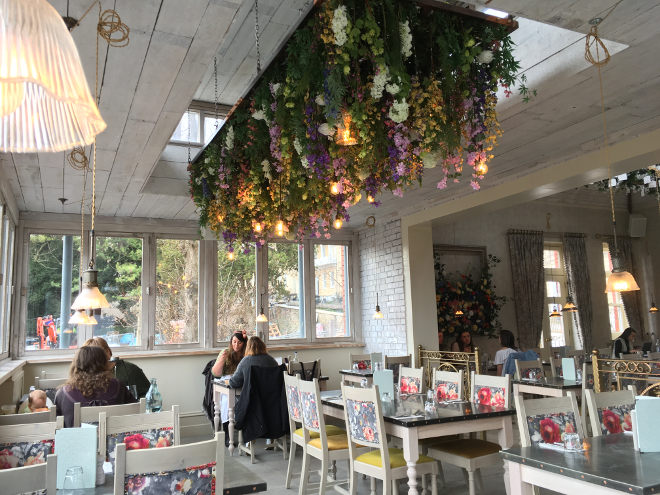 If you knew and loved Goldbrick House in Bristol, you may be aware that a new company has finally taken root in this amazing building, reopening its doors just over a week ago. With a light and airy flower-strewn interior, The Florist makes the most of the eclectic spaces in that hub, with café corners, a bar with DJs after dark and a stunning restaurant all ready for you to explore.
Stairways and walls are decorated with prints and presses of petals, feathers and leaves, while silk blooms pour from ceilings. It's rather like stepping into a gloriously extravagant potting shed.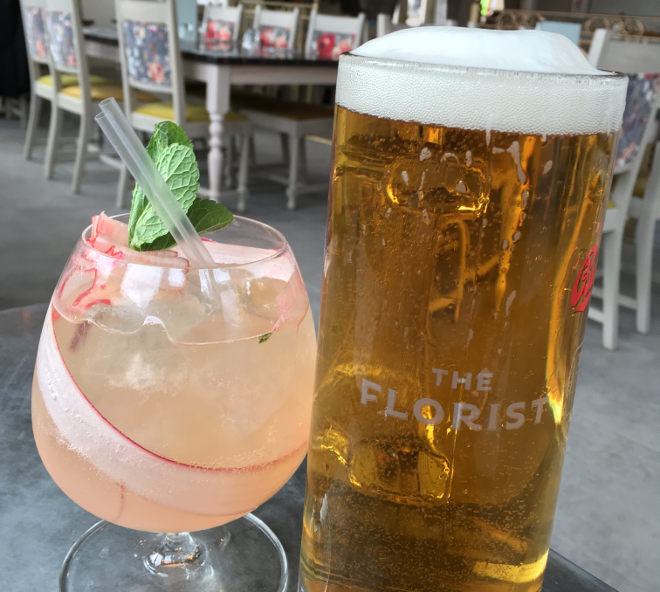 But it's the menus where The Florist really excels. Already well-established in Liverpool, their Bristol location seems set to become equally popular. Lunchtime cocktails, you ask?  While Mr J perused the Anthology of Ales, I delved into chapters devoted to divine concoctions, opting at last for Rhubarb In Bloom (£8.50), a fruity blend of Slingsby rhubarb gin, rhubarb and ginger liqueur, green apple liqueur raspberry syrup and ginger ale. Gorgeous.
We nibbled on taut green olives while choosing our main courses. As a fan of small plates and lots of varied flavours, I found the deli board (£11.50) irresistible – brilliantly you get to mix and match an assortment of four mini plates, or more if you're extra hungry, to create your perfect plate.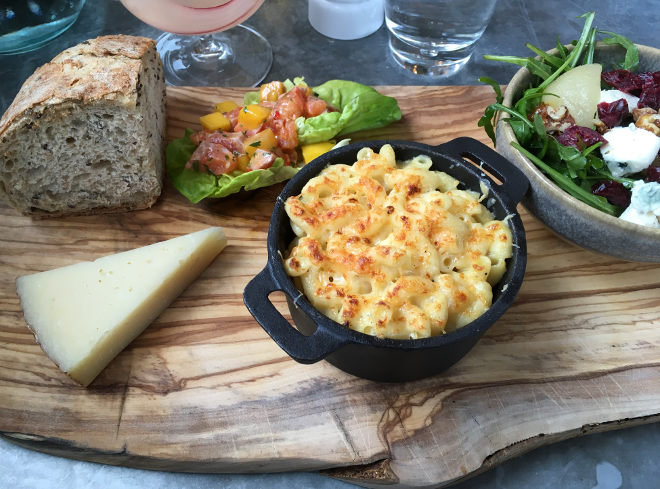 I opted for chilled chalk stream trout, mango and lime cerviche (sweet and tenderly meaty), a Dolcelatte cheese, poached pear and candied walnut salad, a generous wedge of firm Manchego sheep cheese (which I've been in love with ever since discovering it in Spain), and an indulgent serving of macaroni cheese, made with a 2-year aged Shorrock Lancashire. Every mouthful was a mini-adventure as hot and cold, sweet and savoury, components mingled on my tongue.
Mr J ordered the cod, king prawn and chorizo kebab (£11.75) with harissa chips and garlic oil, the latter poured with a flourish by our waitress through the perforated dish at the top to drizzle the fish, meat and chips in a fun bit of table theatre.
As icy rain assaulted the windows, I resolutely pretended it was summer and sipped the Lavender Thistle (£7.95), chosen from the English Flower Garden section of the cocktail menu. Marrying Brockman's blueberry gin, blueberry liqueur, lavender bitters and vanilla liqueur, and with a tangible hint of Palma Violet about it, this was the perfect accompaniment to my dessert. I'd decided to go all out on the floral theme and selected the elderflower meringue with caramelised peaches, dinky cubes of clear prosecco jelly, dabs of rich red raspberry coulis and a scattering of toasted almonds (£5.50). Light, luscious and perfectly indulgent, it was the ideal finish to a meal that had toyed with every tastebud without weighing me down.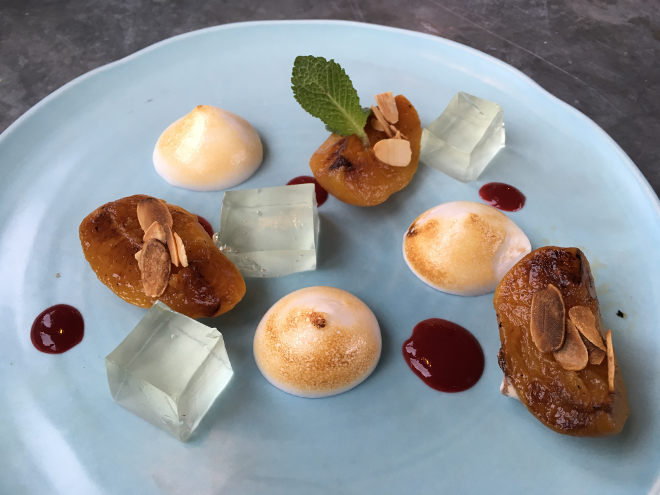 Mr J went with the waitress's recommendation and wallowed happily in a warming sticky toffee pud, complete with toasted a sesame and peanut sauce topped with vanilla ice cream (£5.95).
It's impressive to find a place that can create two very different meals for two utterly different palettes, and ensure that every bite, sip and lick is delicious. The secret to The Florist's success lies in thoughtfully sourced, ultra fresh ingredients put together with care to create a dining experience that will feed all your senses.
Find The Florist at 69 Park Street, Bristol BS1 5PB, tel: 0117 2034284, theflorist.uk.com
Got an event, venue, challenge, competition or call for submissions you'd like to draw my attention to? Send me an email at judydarley(at)iCloud(dot)com.
SaveSave
SaveSave
SaveSave
SaveSave
SaveSave
SaveSave