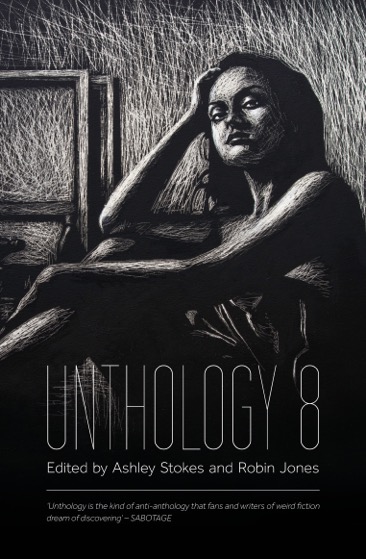 I've been impressed by Unthank Books and their beautifully discerning and disconcerting Unthologies for many years. The tales they select and the books they produce inevitably stop me in my tracks. Right from the start, I yearned to see one of my pieces included among their number, and it's taken a few attempts, some careful edits and just the right mix of narrative and imagery, but it seems I finally cracked it.
Quite simply, I'm thrilled that my short story The Sculptor is among the offerings of Unthology 8, due out on 28th January 2016. What a great start to the year! The Sculptor tells the tale of an ice sculptor coming to terms with her father's semantic dementia.
I've already received my contributor copy  – an elegant black-sheathed volume crammed with fiction by Victoria Briggs, Kit Caless, Armel Dagorn, Sarah Dobbs, Clare Fisher, David Frankel, Rodge Glass, FC Malby, Amanda Mason, and other amazing authors.
Unlike many anthols, with Unthanks offerings it really is best to read the stories in the order in which they're presented as editors Ashley Stokes and Robin Jones take care to curate the selection in a way that builds up and enhances the reading experience in the most exquisite manner. The book is now ready to pre-order from Book Depository, so if you want to treat yourself, just hop over to www.bookdepository.com.
If you sign up to the Unthank Mailing List (from Unthank's website or Facebook page) you can get discounted copies and a discount on all other Unthank titles.
Here's the write up from the publishers:
"Live on a grand scale. Make deathless art. Scream paint. Sculpt ice. Let it melt and become a dynasty. Tarry with prophets and dreamers. Find joy in danger zones. Quit the stage of history. Tread the boards instead. Take a safari. Take a boat ride to the south of France. Work in the music biz, a chicken shack or cliff-top café. Fall in love, then out of love. Complete the jigsaw puzzle in a tiny room. Find yourself in a pris- on cell. Become a machine, loveable and servile. Realise that all the time, wherever you have been, whoever you've inhabited, you have been in a relationship with everyone there ever was or is yet to come and you can't do one damn thing about it. Find fellow travellers here. Make friends with Unthology 8."
I can't tell you how excited I am to be a part of this.
Unthology 8, published by Unthank Books, is available from wordery.com and bookdepository.com.