There's an explosive power within the play Equus, currently on stage at Bristol Old Vic. Peter Shaffer wrote it in 1973, inspired by a crime involving a 17-year-old who blinded six horses. Why would someone do that? The question resounds throughout the script, again and again, gaining intensity as we learn of Shaffer's imagined boy's deep-rooted love of horses.
There's no doubt that Shaffer was a visionary, and his words hold their own more than four decades on, but the freedom given to English Touring Theatre's production, directed by Ned Bennett, feels like an intoxication. The resulting creation is a sensuous and cerebral tour-de-force forged in horse sweat and breath.
The set is minimal to the extreme, with three vast plain curtains containing the space, while contributing to the atmosphere of the scenes. At times, figures or props emerge through them, silhouettes of the horses are shown through use of backlighting, and on one occasion psychiatrist Dr Martin Dysart, performed with startling sensitivity by Zubin Varla, twitches up a section to reveal Alan sitting behind.
Played by Ethan Kai, Alan is a wonderfully complex character. Initially communicating only in advert jingles (sung excruciatingly out of tune), his gradual willingness to open up is believable and moving.
And, yes, there is full frontal nudity. Perhaps, especially following the notoriety of he 'naked Harry Potter' production of 2008, if there had not been the audience would have felt short-changed.
What there is not, in this fresh production, are horse masks. Instead the actors embody horses through movement directed with masterful insight by Shelley Maxwell. In the pre-show talk Assistant Director Denzel Wesley-Sanderson and English Touring Theatre Producer James Quaife explained that while they tested masks in the show's development stages, they decided they weren't necessary.
It's a wise choice, as it ensures no barriers stand between us and the performers. Ira Mandela Siobhan as Nuggets melts from man to horse through subtle shifts in stance. Hands become hooves, and the harrumphs of horses breathing become almost a form of communication. In a sense, it leaves interpretation of the worship elements of the story wide open, adding to the levels of this already richly layered script.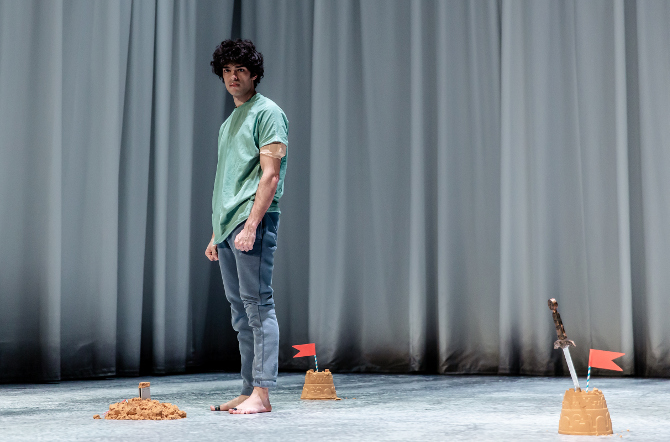 There are moments of sheer magic, not least when Dysart asks Alan, "What's your first memory of a horse," and we're relocated to a seashore via the addition of six sandcastles that slide on stage fully formed. The production leaves it up to us to make sense of what we see. This trustfulness invites us to participate in envisioning the play, adding details and scope from our own frames of reference.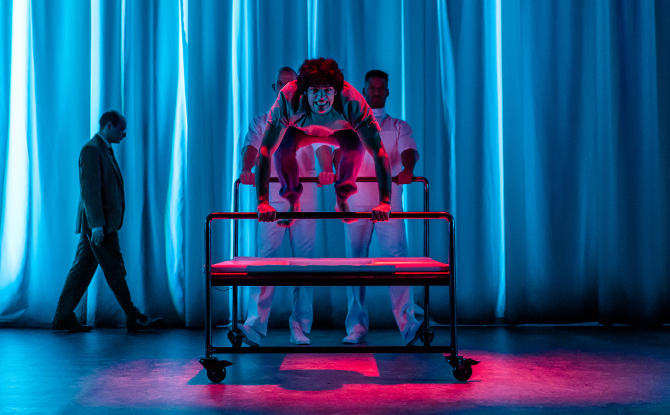 Alan refers to horses as slave-gods, and speaks of the remarkable fact that horses allow us to control them when their size equips them to crush us in moment, if they wanted to. This idea of strength in submission pushes us to question ingrained ideas more deeply, a path Dr Dysart leads us further down in the second act as he queries his patient's madness in contrast to his own perceived sanity. Alan's confusion and vulnerability acts as a field into which Dr Dysart's, and our own, can be thrown and examined.
The second act takes things up a pace, as we rocket through revelations or increasing emotional intensity. The play touches on so many themes – devotion, loyalty, passion and guilt are just a few – that by the exquisitely disconcerting finale, you may find yourself ready to interrogate your own heartfelt or socially imposed beliefs.
Equus is on at Bristol Old Vic until at Saturday 20th April 2019. Find details of cast and ticketing here.
All images by The Other Richard.
Seen or read anything interesting recently? I'd love to know. I'm always happy to receive reviews of books, art, theatre and film. To submit or suggest a review, please send an email to judydarley(at)iCloud.com.