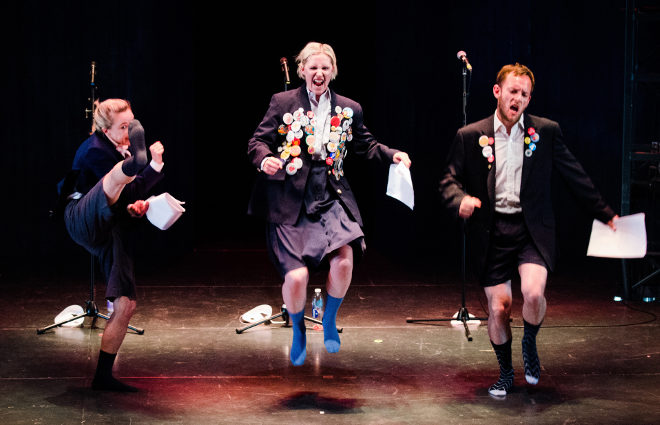 Three dysfunctional siblings invite us to examine our fears in this raucously comedic tragedy.
Heron (Susie Riddell), Magpie (Adam Fuller), and their little sister Feral Pigeon (Emma Keaveny-Roys) have been left to fend for themselves, and are struggling to keep their inner dread at bay. To face their terrors head-on they've devised a multi-step reward programme of badges and affirmations, and some eerily familiar dance moves.
As we took our seats, the siblings asked us for our fears. A curious number of audience members mentioned audience participation. And yes, as you might expect, there was plenty of that to go around. One pair got to try froggy bagging (don't google that. I just did and cannot unsee what I have seen). For the rest of us the participatory element mainly involved partaking of a complimentary in-flight snack and drink, then doodling the things that scare us.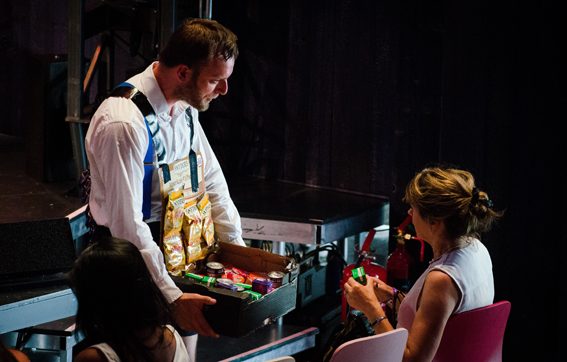 The play was a tableau of exquisite moments, occasionally switching from humour to pathos in the twinkling of an eye. The afore-mentioned dance routine began lightly enough, but piled in the tension as Heron's darkest thoughts rose to the surface. Co-director and performer Susie Riddell's talents shone as she portrayed Heron's slowly shifting mood through subtly modified dance moves and an increasingly distressed expression. As her brother and sister faltered to a halt, the whole room fell silent.
The emotional peaks and troughs were breathtaking, a roller-coaster equivalent of hitting reset whenever the hilarity or the grief veered to the brink of hysteria.
At one point we were instructed to blow our anxiety into brightly coloured balloons. My friend's balloon burst four breaths in, releasing a gale of giggles, but the rest of us released ours in a gorgeous moment of synchronised farty rainbow childishness.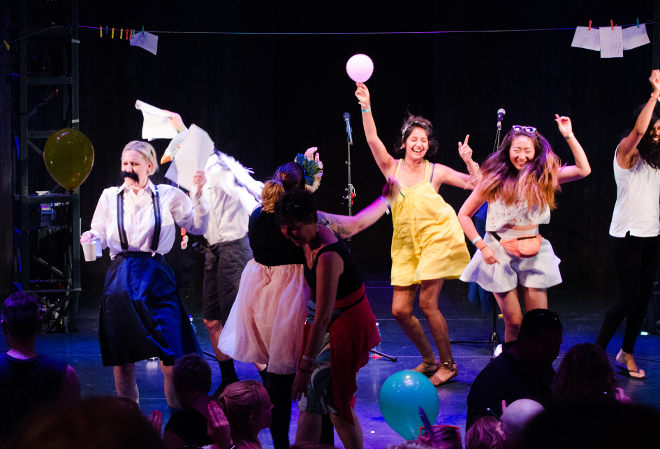 Talking of rainbows, Magpie overcoming his dual qualms about glitter and intimacy was a vision to behold. I'm just hoping the glitter was applied with oil, not glue, as he's a somewhat furry man and the removal later could be excruciating.
Presented by experimental theatre company Idiot Child as part of Bristol Old Vic's Studio Walkabout Season, the show featured too many perfect moments to share them all here. In short, a dizzyingly cathartic show that will imbue you with a sense of joy you hadn't known you were missing.
In Bristol, What if the plane falls out of the sky? took place at The Loco Klub. The show is also travelling to Shoreditch, Brighton, Birmingham and beyond.
Are you an artist or do you know an artist who would like to be showcased on SkyLightRain.com? Get in touch at judydarley (at) iCloud.com. I'm also happy to receive reviews of books, exhibitions, theatre and film. To submit or suggest a review, please send an email to judydarley (at) iCloud.com.