Vibrant, comical and moving, Wise Children at Bristol Old Vic is a joyfully dizzying swirl of an end-of-pier helter skelter with a vein of minty gravitas spiralling through the middle.
We meet twin sisters Nora and Dora Chance (Etta Murfitt and Gareth Snook) as they prepare to celebrate their 35th birthday, then zip back through time to meet their paternal grandparents. Some theatrics, debauchery and a spot of violence orphans their father and his twin brother, and so a pattern is laid out for the sisters before they're even born.
Bringing Angela Carter's last novel to wriggling, whooping, high-kicking life is director Emma Rice, the creative whizz behind the enchanting The Flying Lovers of Vitebsk, among others. The production is the first from Rice's new theatre company, also named Wise Children, and it's a fabulous indication of the treats to come.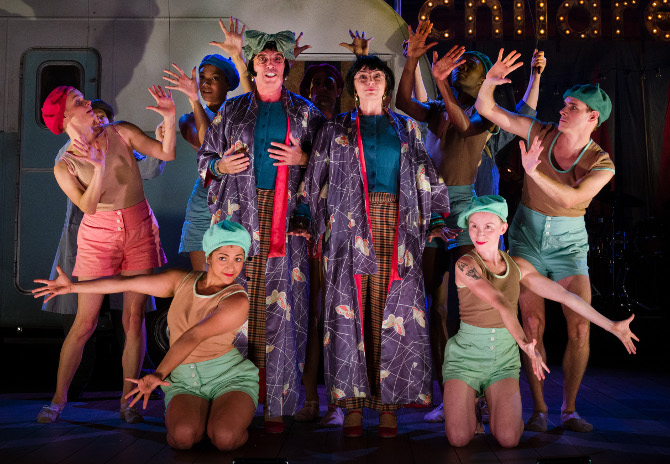 The small cast conjure a whole world, with earlier incarnations of the sisters and their fathers appearing throughout, sometimes as ghostly memories and other times in a change of costume as a lover, pier comic or stagehand. Gender is fluid, and morals even more so. The recommendation is that performances are best suited to ages 14 and up. Sex is portrayed with cartoonish vigour or fleeting tenderness, and education on this theme from Grandma Chance is accessorised by bagels and sticks of seaside rock.
The youngest Nora and Dora (apart from Lyndie Wright's puppets) are performed with boisterous wide-eyed enthusiasm by Mirabelle Gremaud and Bettrys Jones, while their showgirl personifications, played by Omari Douglas and Melissa James, exuded sex appeal and vulnerability in equal, overflowing measure.
Katy Owen is magnificent as the girls' ever-tipsy, often unclothed (apart from golden nipple tassels) grandma, while the elder embodiments of their father and uncle, (Paul Hunter and Paul Rider) manage to smudge the bravado of their younger selves (Ankur Bahl and Sam Archer) into the wistful, somewhat melancholy humour of old age.
The sisters long to be acknowledged by their father Melchior, who abandoned their pregnant mother, but settle instead for the intermittent adoration of his brother, Peregrine. Dashing and affectionate, young Peregrine is also the instigator of one of the production's most chilling scenes.
Taking place in a moment of quiet between 13-year-old Dora (Bettrys Jones) and her uncle, while other action takes place around them, it's skilfully handled enough that we questioned whether we'd really seen what we thought we'd seen – a unnerving parallel to the reality of such instances.
Laughter, song and dance coupled with the vivid set (including an ingenious turning caravan and some exquisite projected animation) plus enticing costumes by Vicki Mortimer keeps the tone on the right side of fun, but this dark core thread draws us towards the shadows beyond the glitz, if only for seconds at a time.
Wise Children is on at Bristol Old Vic until 16th February 2019. Find out more and book tickets. Production images by Steve Tanner.
Seen or read anything interesting recently? I'd love to know. I'm always happy to receive reviews of books, art, theatre and film. To submit or suggest a review, please send an email to judydarley(at)iCloud.com.