I love encountering outdoor art, particularly when those artworks join forces with their setting to enhance an area's existing beauty. Done well, it has the power to engage people with nature and art in a way that's really exciting.
With this goal, landscape artist Anthony Garratt has created four spectacular al fresco paintings on Anglesey, painting them at the locations where they're now displayed, on the north, south, east and west of the isle. Each artwork takes in a different iconic view: Caernarfon, Snowdonia, the Great Orme, the Lleyn Peninsula and the Irish Sea.
The four 2.5-metre acrylic and oil canvasses have been hoisted onto bespoke steel structures to be enjoyed in the spaces they were inspired by and where they were painted. I think they're amazing – really dramatic. I love the way they reflect and interact with the scenery.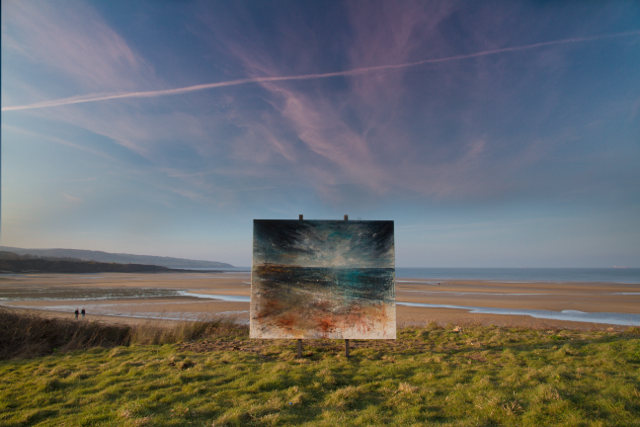 "This is a hugely exciting project," says Anthony. "The fact that the paintings are at the mercy of the ever-changing light and weather adds a whole extra dimension both to the painting process as well as to the experience of the viewer. Sitting under the watchful eye of Snowdonia, Anglesey is an amazing landscape to contemplate."
The project has been commission by Anglesey resident, Bun Matthews, owner of Menai Holiday Cottages. The outdoor art exhibition of 'Four on Anglesey' will remain in situ until October 2015. Do go along if you can, and if you do, let me know what you think.
Are you an artist or do you know an artist who would like to be showcased on SkyLightRain.com? Get in touch at judydarley (at) iCloud.com. I'm also happy to receive reviews of books, exhibitions, theatre and film. To submit or suggest a review, please send an email to judydarley (at) iCloud.com.