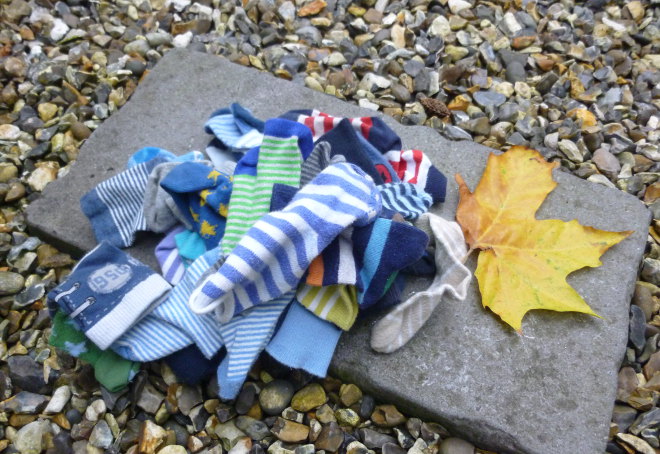 The other day my sister presented me with a carrier bag filled with baby socks that had formerly been worn by her sons. We tipped them out and discovered 30 odd socks. "Do something with those," she challenged me.
After a lovely conversation with craftivist Sarah Corbett (check out her Craftivist Collective website for more on her inspiring activities) on Monday, I've had an idea. Each of these mini socks could be the perfect vessel for a positive thought or suggestion – think fortune cookies that offer recommendations for a happier life, and that once kept tiny feet warm.
For this week's writing prompt I invite you to come up with a message for one of these socks to bear. It could be something to make a person smile (as simple as "You're really fab!"), or a statement that could make the world around them better ("Kindness is sexy"). It could even be a line from a favourite poem or song.
Whatever springs to mind, send it my way via twitter or email and I'll stitch, stick or write thirty of them onto socks, ready to distribute everywhere I go, maybe during the upcoming Totterdown Front Room Art Trail.
Of course, if you have some spare small socks of your own, you're more than welcome to take this idea and run with it.
If you write something prompted by this idea, I'd love to know. Just send an email to Judy(at)socket creative.com or a tweet to @JudyDarley.