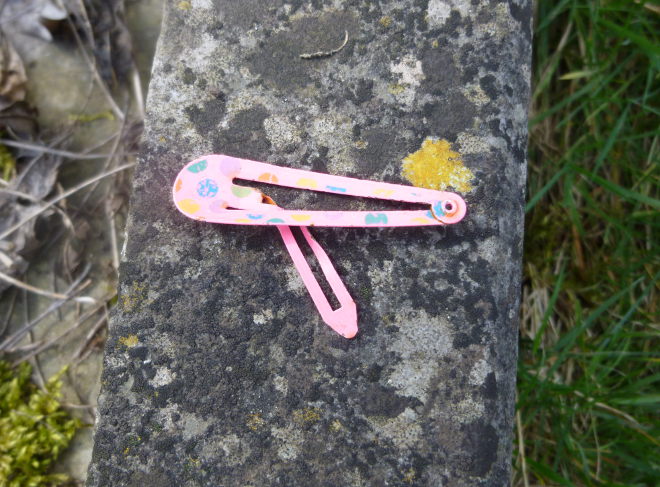 One of the early inspirations for my story Knotted Rope (published on the Seren website) was a small pink hair clip I saw lying beside a grave in Arnos Vale Cemetery. It made me wonder about the child who had lost it, and then wonder what would happen if the child want missing instead of the clip.
Could this inconsequential item serve as a clue? In the end my story about a missing child took a different route, and that initial thought was reduced to the following:
       I overhear one police officer mutter to another: "Shame it's not a girl."
       "Excuse me?" My voice rattles through the air. "What difference would that make?"
       "Oh, none, nothing. Just, little girls tend to carry things, hair slides…" He flounders, pointing to a broken clip on the side of the path. The pink paint is peeling away; it's spotted with rust. "They're more likely to leave a trail."
       I glare at him. "If you're any good at your job you won't need a trail, will you?"
What ephemera you spotted by the side of a path or road? What directions could it carry you in your writing?
If you write or create something prompted by this, please send an email to judydarley(at)iCloud.com to let me know. With your permission, I'll publish it on SkyLightRain.com.
SaveSave