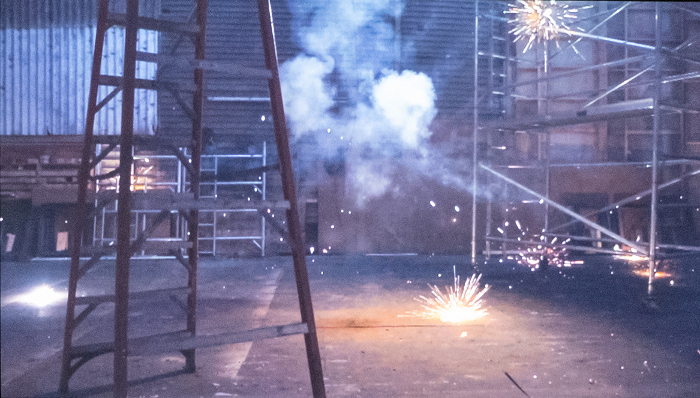 The Royal West of England Academy (RWA) is currently holding an exhibition that examines the beauty and peril of fire.
From the romantic flicker of candle glow to a lurching, gigantic charred figure (Man on Fire by Tim Shaw), the artworks on display at Fire: Flashes to Ashes in British Art 1692-2019 demonstrate the challenges of this most voracious and ferocious of phenomena.
As always, the curatorial team have called in exquisite classic works, as well as showcasing how modern artists are exploring the element currently devastating the Amazon rainforest. The third of the galleries' element-themed exhibitions feels weightier, unsurprisingly, than either the Water or Air-themed shows, and yet lacks the otherworldly after-feel of either of those, which I particularly loved.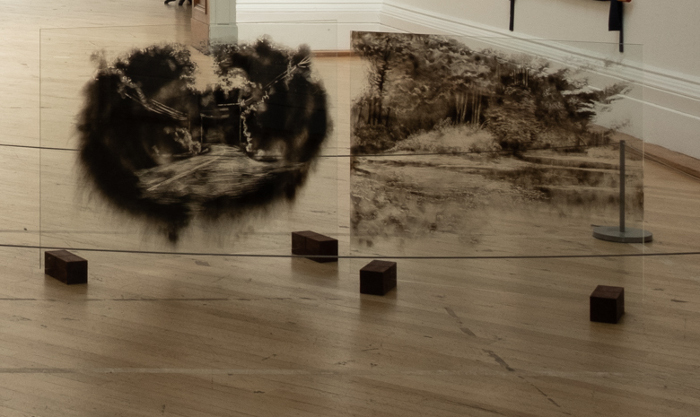 Here, there are fewer pieces that spill outwards from attempts at categorisation, but those that feature, not least Tim Shaw's afore-mentioned Man on Fire sculpture, made from bin bags, foam and wire, as well as two dreamy pieces by Catherine Morland created using candle-flame on glass (shown above), are powerfully thought-provoking.
There are an array of artworks made by harnessing the power of fire and explosives, if only for a moment. Aoife van Linden Tol blasted discs of sheet copper to render her gorgeous, heat-scarred Sun III. In her case, the explosion was the focal point of a performance, rather than merely the means of creation; rather, it's the artwork itself that is the byproduct.
Roger Ankling painted directly with sunlight, with a lens for a paintbrush in an act of heliography, to produce his sculpture Voewood, while David Nash crafted his fingertip-tempting Burnt Bent Book using a blowtorch.
As Mowgli learnt in Rudyard Kipling's The Jungle Book, fire is what sets us aside from other animals. It can be terrifyingly destructive, and yet it can also bring us together in comfort and safety.
Artists include William Blake, Wilhelmina Barns-Graham, Jeremy Deller, David Nash, Cornelia Parker, Stanley Spencer and JMW Turner.
Contrary to my own expectations, I found it was the more traditional pieces that drew me in – the richness of colour-play, of the fires' brilliance against nightfall and its beauty set against what can only be panic and most likely death, makes them illustrations of the fragile line we tread beneath safety and peril.
My favourites include three jewel-like miniature watercolours by J. B. Pyne depicting the 1831 Bristol riots – undeniably exquisite despite their subject matter.
Look out for Sophie Clements' mesmerising film (shown top). And on the way out, take a moment to admire Karl Singporewala's sculpture of a blackened, skeletal Notre Dame tower – a reminder that human as well as natural wonders are susceptible to the hunger of flame.
Images supplied by the Royal West of England Academy.
Are you an artist or do you know an artist who would like to be showcased on SkyLightRain.com? Get in touch at judydarley(at)iCloud.com. I'm also happy to receive reviews of books, art, theatre and film. To submit or suggest a book review, please send an email to judydarley(at)iCloud.com.