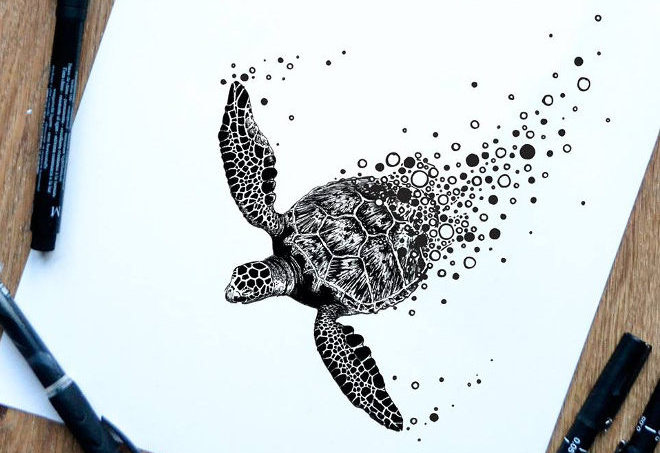 Artist Cai Burton has a unique talent for capturing the natural world. Using fineliner pens, he fills pages, and the occasional wall, with swoops, circles and dots that conjure up a creature or scene that bubbles with life.
"I think I've always loved making patterns," he comments. "You look back to my school books and they were covered in them. My friends used to sit and watch me draw in our physics class (Sorry Mr Gregson and Ms Wales!). But since then, that's carried through and become an intrinsic part of the work I create today."
Cai describes the work of creating his artworks as a mindful experience. "I absolutely love the process that goes into it, and I think that's as important as the finished piece," he says. "It's almost as though I'm watching the illustrations come to life as I'm drawing them, which is a cheesy, but exciting, feeling."
Recently Cai has begun producing mugs and greetings cards emblazoned with his patterns, as well as carrying out mural commissions for clients such as Mercure.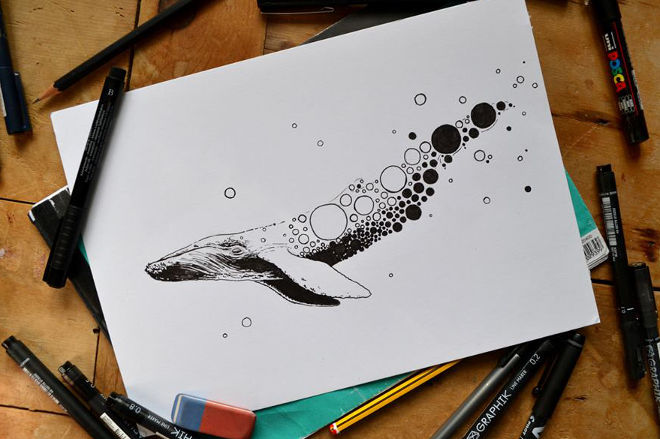 His marine series have become an enduringly popular part of his output, but began on a whim. "I just fancied drawing a whale, so I did!" he says. "In all seriousness, though, I'm both in awe and terrified of the ocean, and I was feeling inspired to create something different. I like to think of it as inspiration striking in a flash! Ever since then I've enjoyed finding more about the amazing creatures that inhabit our oceans."
His respect for these animals shows on the page – portrayed usually in black on white, their strength and serenity is vividly portrayed.
Cai is equally passionate about the work dreamt up by other artists. "Generally, I love finding work from other illustrators and artists! It's SO inspiring when you find someone who creates beautiful work – I love it."
He thrives on the energy generated by following his own creative urges.
"I really love being my own boss," he says. "I love the freedom to be able to do exactly what I want and not to answer to anyone – well, except for clients. It's amazing to be able to come into my studio and decide to just spend the morning drawing, because I can. It means I can really shape my business into something I love and am proud of."
Cai's work frequently appears at art markets and art trails in the Bristol area. "I'm also exhibiting at Grounded in Horfield, where you can see my animal illustrations as well as a few others," says Cai. "I've just launched a brand-spanking new website which has got all of my illustrations as prints and products as well as a collection of most of my work."
Find it at www.caiburton.co.uk.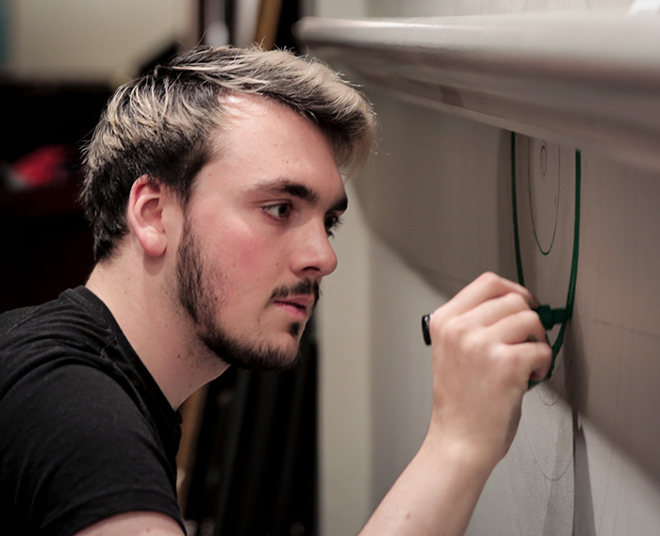 Are you an artist or do you know an artist who would like to be showcased on SkyLightRain.com? Get in touch at judydarley (at) iCloud.com. I'm also happy to receive reviews of books, exhibitions, theatre and film. To submit or suggest a review, please send an email to judydarley (at) iCloud.com.