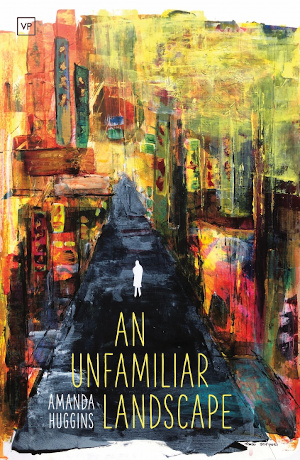 If you've read Amanda Huggins' fiction before, you'll be aware of the richness of her writing. Equally comfortable writing page-long tales, novels and poetry, Huggins appears to inhabit the worlds she conjures, adding details with the power to be both delicious and disconcerting.
In An Unfamiliar Landscape, Huggins' third full-length collection, the opening short story Aleksandr offers vapour trails of backstory and future story, so that when it ended, it left me hungry and eager for more.
"I know he hates being on land, that he feels tied to the sea by an invisible thread, that it pulls him back with every ebbing tide."
It's easy to fall hard for Huggins' characters, who spring from pages fully formed and eager to make your acquaintance. Their emotions are deftly, colourfully painted, with yearning a key trait. Even seen through others' eyes, many seem wistful and searching, making me want to offer solace.
Huggins is able to weave more into a single paragraph than many achieve in pages of text, adding texture and significance to the worlds she creates for her characters to inhabit. Many of these worlds are salt-scented UK coastal settings, while others  lure us further away, inviting us to explore Tokyo, Paris, Berlin and other places.
These tales showcase the pleasures and occasional discombobulations of travel, drawing characters' emotional frailties to the surface. In the title story set in Tokyo, Huggins confides: "Sophia had tried to quiet the commotion inside her own head with a daily routine of coffee shops and art galleries, with the hush of museums and books, with endless walks through unfamiliar streets. But inner silence eluded her."
Huggins demonstrates again her prowess for writing of adolescence in this collection. In Lounge Lizards, ocean perils mirror the thrill and uncertainty between childhood and early adulthood as two boys facing family breakdowns allow a boat to drift on the tide, shifting their view of him: "From this new vantage point everything looks different (…) It's an unfamiliar place, seen for the very first time, a town unravelled and sea-changed."
Huggins is a generous writer too, grafting in sentences that seems designed to fill her readers with delight, as with her description of a painting in Eating Unobserved: "Figs were split wide open, ripe and glistening; succulent peaches wore a velvet bloom, tempting the observer to bite into their yielding flesh, to lap up the sticky spill of warm juice."
More thrillingly for me, Huggins rewards our attention with occasional splashes of familiarity, as a minor character of one story reappears as the star of another, with an earlier story's unsettling ending echoing against the same intriguing backdrop. It reinforces the idea of her characters living beyond their story's edges.
This is a satisfyingly varied collection, with each story serving up its own unique flavours and textures. One to return to for reminders of how a skilled writer can arrange words in such a way that they create extraordinarily visual patterns in readers' imaginations.
An Unfamiliar Landscape by Amanda Huggins is published by Valley Press. Buy your copy direct from the publisher here.
This book was given to me in exchange for a fair review.
What are you reading? I'd love to know. I'm always happy to receive reviews of books, art, theatre and film. To submit or suggest a review, please send an email to judydarley (at) iCloud.com.