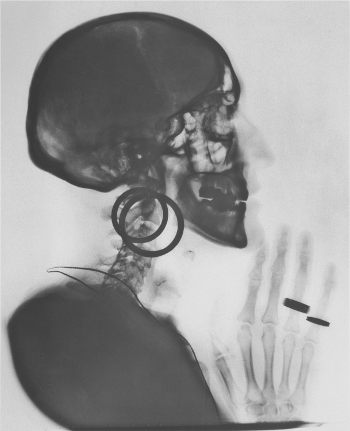 Has any book ever had a more intriguing title? In fact, the full title is Meret Oppenheim: Works in Dialogue from Max Ernst to Mona Hatoum. When I received this book to review, I admit, I knew little about the German-born Swiss painter and sculptor Meret Oppenheim, despite having been a fan of the surrealists since my teens. Reading this book I discovered that she was something of a phenomenon in her lifetime, managing to stand out amidst the extrovert eccentricity of the male-dominated Surrealist art scene.
This glorious book acts as a retrospective of the artist's work, in the context of the time in which she created it, with insights into her influences and inspirations. Through the book's editors art historian Guido Comis and museum director Maria Guiseppina Di Monte, we encounter Meret's peers, friends and acquaintances, with accounts packed with absorbing titbits from her intriguing life. While her affiliations evidently impacted enormously on her creativity, she clearly helped to mould much of their output just as powerfully.
My favourite chapter in the book is written by Bice Cunger, which opens with a splendid sentence from Meret: "Men are a species as bizarre as women and, like then, caricatures of what they could be." it's a perfect example of the wry observation and light-hearted wisdom that infuses Meret's work, reflecting her outlook and candour. While many of her paintings resemble scenes from the darker examples of fairytales, she never looses her focus on the absurdities of real life.
It's an extraordinary read, especially accompanied by lustrous photography of Meret's unsettling yet appealing creations. There's a stunning finesse to her sculptures, so that they're at once elegant and discomfiting – a duality I find irresistible.
Published to accompany an exhibition at the Museo d'rate della Swizzeria Italiana, the tome humbly describes itself as a catalogue. In fact, it is a beautifully put together coffee table book worthy of treating as a work of art in its own right, yet packaged in such a way that you can draw it into your arms to shape and stimulate your own creative meanderings, just as Meret's mind and spirit shaped and stimulated generations of artists, thinkers and innovators. Quite frankly, a fabulous last-minute Christmas present or New Year's gift to yourself.
Meret Oppenheim: Works in Dialogue from Max Ernst to Mona Hatoum is published by Skira.
What are you reading? I'd love to know. I'm always happy to receive reviews of books, art, theatre and film. To submit or suggest a book review, please send an email to judydarley(at)iCloud.com.
SaveSave