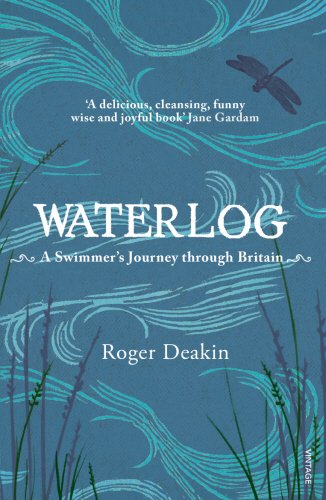 Few books can claim having seeped into as many lives as Roger Deakin's Waterlog. An outwardly simple account of one man's aim to swim across as much of Britain as possible, this quietly joyful tale has gained cult status (and spurred on countless wild swimming societies) since its publication in 1999.
Prompted by his own love of wild swimming, and John Cheever's iconic short story The Swimmer, Deakin's account blends his love of nature, a wealth of historical and geographical titbits and a very contemplative view of our country's waterways.
There are moments of drama too, as in when he visits the aptly named Hell Gill in Cumbria – a canyon with water funnelling through it. "Courage up, I returned to the turbulent rim of the gorge and did what u knew might be an unwise thing. I couldn't help it. I began to slide into the mouth of the abyss itself." It's a dizzying read as he slithers, swims and careens down "Hell Gill's dim, glistening insides", descending into the darkness: "I felt like Jonah inside the whale."
In the chapter following this particular perilous adventure, Deakin describes his sense of having being utterly changed by it. "I have never delved so far into the earth before, so alone, or so naked. It could have swallowed me up, but here I was, on the other side of it."
He never loses his respect for the natural, watery wonders he encounters, or the people he meets along the way, from eel-trappers to artistic hermits to hordes of bikers, while celebrating the pleasures of pottering through rivers, outdoor pools and seas, always by breaststroke (all the better for observing the surrounding wildlife), and often references earlier notable water enthusiasts, including William Morris and Henry Williamson,author of Tarka the Otter "now an otter himself."
He also visits the most delicious man-made pools, such as the Brine Baths in Droitwich, Worcestershire, to the Grade II-listed unheated Parliament Hill Lido, devised by Berthold Lubetkin, the same designer who created London Zoo's penguin pool.
It's these intriguing details scattered with poetic flights of fancy and Deakin's reflections on his experiences that make this book such an elegant, immersive read.
"When you swim you feel your body for what it mostly is – water – and it begins to move with the water around it."
Waterlog: A Swimmer's Journey Through Britain by Roger Deakin is available to buy from Amazon.
To submit or suggest a book review, please send an email to Judy(at)socketcreative.com.