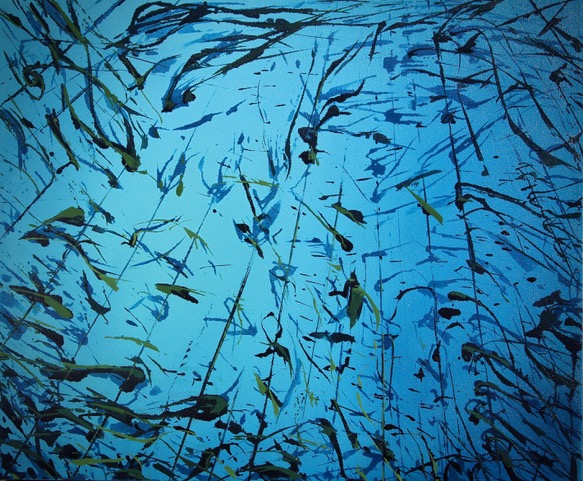 I've been entranced by the art of Emma Jackson ever since encountering the contemplative peace of her canvasses at Bristol Affordable Art Fair and discovering that she is prone to wading right into the watery scenes she recreates. It's an immersive technique that helps her to fully experience her surroundings, and thereby convey them more compellingly to us, the viewers.
"The more directly I come into contact with nature, the more I am able to make an emotional connection with and make sense of a place," she explains.
For her recent BIG Blue series, she's delved into recreations of an underwater world glimpsed off-shore from Australia and Hawaii "where I was lucky enough to go diving and experience at first hand the ethereal quality of nature and life beneath the ocean."
Back on dry land in her studio, Emma uses a range of photographs for an initial set of drawings, "then I create a music playlist to set the scene before I can start painting. I played Modern Kosmology by Jane Weaver over and over again during my Blue painting sessions."
Each of Emma's paintings begins as a search for "the 'Genius Loci' the spirit of a place. I'm quite often drawn in be a certain light at a certain time of day. I'm currently experimenting with some nighttime photography to capture that very special light between day and night."
Forests, oceans, quarries and streams all play their part in feeding both Emma's urge to be outside. As she mentions in her artist statement, "I start the creative process by getting outside, walking and exploring, sometimes trespassing searching for unusual and remote areas within the landscape. This could be a deserted slate quarry in the Lake District, an ancient woodland in Scotland or island-hopping in Finland. It's important to make an emotional connection with the place before I can start to make art. I will spend a lot of time in one place, taking photographs and making quick sketches. It is essential to capture the 'sense of place' before I head back to the studio and start making art."
Her pieces offer slices of shadow and light, and a hint of the movement of a breeze over water and through leaves. There's a suggestion that if you concentrate and inhale with care you may just catch a whiff of damp earth and the heat of living things. "I'm aiming to recreate the emotional experience I had at the time of being there," she comments. "This is sometimes representational or it can be quite abstract. I think my work is most successful when they reflect both styles – semi abstract."
Life as an artist suits Emma through and through, as she relishes "thefreedom and diversity, and the opportunity to travel and see the world."
From 21st-25th March Emma was lucky enough to head to the New York Spring Affordable Art Fair where she exhibited with London-based gallery Wills Art Warehouse.
For details of all Emma's latest work and exhibitions, visit emmajackson.org.uk
Are you an artist or do you know an artist who would like to be showcased on SkyLightRain.com? Get in touch at judydarley(at)iCloud.com.