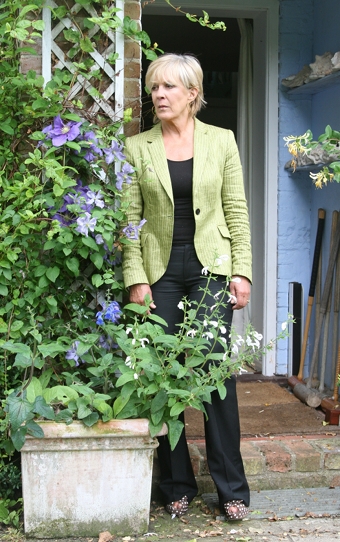 This interview was originally published by the New Writer magazine.
As the daughter of legendary poet Sir John Betjeman and travel writer the Hon. Penelope Valentine Hester Betjeman, Candida Lycett Green had an imposing literary legacy to live up to, but it doesn't seem to have daunted her one bit. Now in her sixties, she's the author of over a dozen books, has written and presented a clutch of television documentaries, is a contributing editor to Vogue and a member of the Performing Rights Society. Since 1992 she has been writing a regular column for the Oldie, and her latest book is a compilation of 100 of her columns. She says that  writing seemed to be a logical career path.
"I needed to get a job and earn my living, and as I was quite good at English at school and writing was part of my parents' trade it seemed obvious," she says. "I saw it as a craft I could do rather than being inspiration-driven. I think people can be very airy-fairy about writing – I've only ever seen it as a method of earning a living. There's a terrific mystique about writing that to me seems completely unfounded."Candida is adamant that being Sir John Betjeman's daughter no different to being the daughter of any other person who succeeds at their chosen profession.
"My father's literary estate is like a property or a business," she insists, "The royalties are an inheritance just like a house is. A very nice inheritance but an inheritance all the same. My father had to write to subsist – it was as practical as that."
She does admit, though, that growing up in a home where books were considered important had an impact. As a small child she had no idea what he did for a living, "only that he went to London by train. I didn't read his poetry properly, nor my mum's travel books, until I was well married and no longer covered in embarrassment. Because I knew them so intimately I felt couldn't judge their work objectively until after they'd died. I think it's the same with anyone you know well – you can't read it dispassionately, which put me off reading it at all for a long time."
Aside from her obvious writing talent, she also inherited her parents' determination, and found her first work as a writer through going round all the magazines she could think of until she got a job writing captions for £8 a week.
Even when it came to novel writing, she eschewed the idea of using her familial connections to ease the way.
"My first novel was a children's book, which was commissioned by a publishing company that collapsed before it was finished," she says, "I then had to tout it round the publishing companies. It was rejected by five or six publishers before I found the one who would take it. You don't get published just because you're the daughter of famous writers, and I refused to use my maiden name anyway. I'm proud of my marriage, and my married name is part of that. I was a feminist in the sixties, but I had no problem with taking my husband's name. It was about the only thing I wasn't a feminist about."
Before embarking on her writing career Candida took a course in sculpture in Oxford. It was here that she met Richard Ingrams, who went on to co-found Private Eye magazine to which she became a regular contributor. When Ingrams became the editor of The Oldie, he created the column for Candida to write, expressing her deep love of the English countryside.
"I've worked for Richard Ingrams on and off for fifty years. I acted in his review at the Edinburgh festival and help him to staple together the first copy of Private Eye. He created Unwrecked England column for me when he started the Oldie. The idea of turning it into a book was there right from the start because that's how he got me to agree to write it, saying that when I'd written 100 columns he would turn it into a book."
The first collection was published by Pavillion, but, Candida says, "the format was wrong. The images were too small and all crammed together in the middle of the book. It didn't work."
Late last year, the publisher James Pembroke released the second edition of Unwrecked England, complete with sumptuous photographs, including about 30 taken by Christopher Simon Sykes. "This edition of the book's selling really well. I had the luxury of choosing from 500 columns this time."
Candida believes her passion for England's rural areas began in her childhood.
"We were always out and about, exploring the countryside. I feel connected to it – it's part of me. The more I'm enveloped in it the stronger I feel. I'm part of England. I'm happy to go abroad for holidays but I don't feel conjoined to other countries the way I do to England. I suppose it's in my gut!"
Part of the appeal, she says, lies in England's immense variety.
"England's so changeable from one village to the next. My homeland is in the Berkshire Downs and Ashdown and the Uffington White Horse, which I can see from the window as I speak. It's wrapped around me. I can't do without that."
In reading Unwrecked England it's clear that her focus shifts in some columns, so that some are more personal than others. When I mention this, she is astonished.
"Really? How extraordinary. Well, the columns are written over a long period and I would have been in different moods at different times. The ones I've written from the gut are about places I knew well and loved. Others I've only visited once are supplemented with information from the books in my library. I have a very extensive library. I would never use the internet for research, or at least not solely. I might use it to get an idea, though, and then go and check it in a book."
But, I comment, the entry on Ashdown was very factual, despite the fact she claims it's one of her favourite places. She thinks about this for a moment, then says that she believes this is because she knows the place too well and needed to find a way of distancing herself.
"I've only ever had very intimate thoughts about Ashdown, camping there as a child… it wasn't relevant to put all my personal reflections in the column so I put in the history, which I happen to think is very romantic…"
In her teens Candida rode ponies competitively, and in her preface to the book she mentions that she approaches most place by horse.
"That's how I like finding places. If you arrive by car, you don't get any of the atmosphere of a place until you stop and get out. Arriving by horse on a track at the back of a place is pretty wonderful. You get a more encompassing view of a place. There's something about being on a horse riding through the countryside, blending in."
Even the English weather can't dampen her enthusiasm: "Weather is England. It only exemplifies that it's England. If the weather is gloomy, say, on Dartmoor, it's what you want and expect. I'm not going to stand there and get sopping wet, though, I'll retreat into the local pub. And that's often where you get the true feel of a place."
Candida says that the need to explore feeds the column, rather than the other way round, and that of the two she could give up writing far more easily.
"I love finding my way about and meeting the people who make a place what it is. Finding new tracks or roads is like opening presents."
Candida regards the highlights of her career as also being the most personal, including as they do editing three volumes of her father's letters, and writing the book Over the Hills and Far Away, an examination of her own battle with cancer.
"I edited my dad's letters and prose as well as I could and I hope I did him proud. I suppose Over the Hills and Far Away struck a chord with some," she says, adding: "Once you've had cancer it's very easy to be very open about it. What the hell? Once you've faced mortality then anything that might help someone else deal with cancer is fine. A lot of people identified with it, and I know it often gets given to people with cancer. That was what I wanted to do once I got better – write a celebration of my life that might help other people."
This no-nonsense approach is typical of Candida, who sees writing as a means to an end, rather than the end in itself. In her opinion, writing seems to have little to do with skill, which makes me wonder whether her father would agree. It's a difficult viewpoint to reconcile with Candida's glorious sweeping descriptions, which are as poetic as any of John Betjeman's works. It reminds me of occasions when very rich people say that money doesn't matter; only the gifted can claim genius is unimportant.
When asked what advice she would offer an aspiring writer, Candida gives a typically pragmatic answer. "Anyone can write, everyone has a story. It's simply a question of application."
Whether it's true that hard work is more crucial to the equation than talent, one thing is evident: Candida has reams of both, regardless of her parentage.