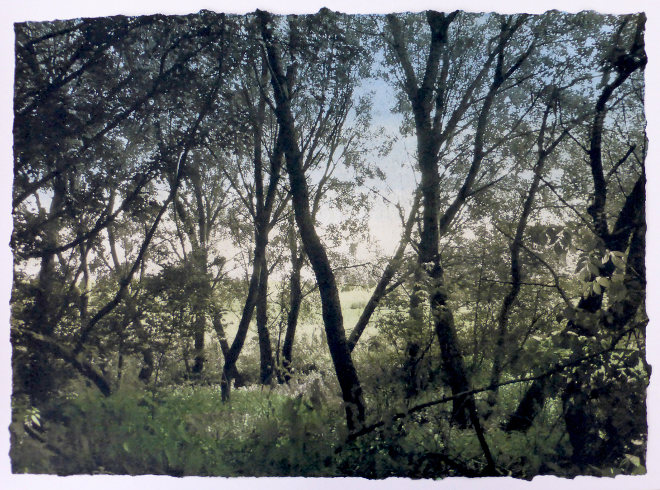 Thickets, forests and ocean views appear in Luella Martin's art, but the true focus is the light. Using it both as the subject and the means, she creates images that appear to exhale the quiet of rural spaces.
It's a curious contrast to a childhood in central London, but is perhaps explained by an abundance of time spent in galleries, where certain paintings become familiar friends.
"My mother used to take me to lots of art exhibitions when I was a small child," she says. "I especially loved going to the Tate Gallery (there was only one in those days) and I always had to visit my favourite Mondrian. One day we went to a large Renoir show and I was dazzled by the explosion of light and colour – I decided then that I wanted to be a painter."
At the time she was about five or six years old. "I remember spending hours in my bedroom drawing vegetables and kitchen utensils!"
She discovered solar etching during a weekend workshop "with wonderful printmaker Dawn Cole" and was hooked immediately.
"The workshop was arranged by Ian Brown at Volcanic Editions in Brighton," she says. "It's a great workshop where I've enjoyed exploring different techniques and editioning my prints. I am very lucky to have met some lovely generous people who've helped me on my artistic journey."
Instead of using hazardous chemicals to create an image, solar etching relies on a light sensitive material which is exposed thought sunlight and developed with tap water – both ingredients that most of us have easy access to.
Watch a short film about how Luella makes her solar etchings.

"The thing I like most about solar etching is it's versatility," says Luella. "You can adapt the process to suit any style of work. Because it's a non-toxic process so you can make the plates anywhere – I've exposed plates in my back garden!"
Beyond her garden, Luella finds inspiration for her etchings and painting in the landscape of the South Downs and coastal areas of Sussex. "I visit the same places very often and always notice something new," she says. "I try to see it at lots of different times of day – different weather and different light define the atmosphere."
Life as an artist is a joy, she says. "What could be better than messing about with paint? I feel very fortunate to be able to spend time in my studio making new paintings and prints."
Luella is showing her recent solar etchings with Cameron Contemporary Art in Hove until 19th February 2017 as part of the show Edition 2017. She will be opening up her studio at Phoenix Brighton over the weekend 12-14th May 2017.

Find out more at www.luellamartin.co.uk
Are you an artist or do you know an artist who would like to be showcased on SkyLightRain.com? Get in touch at judy(at)socketcreative.com.