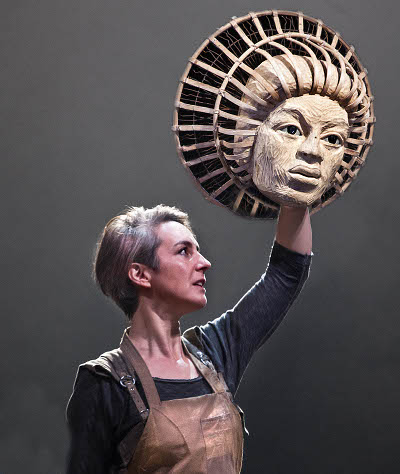 As a pre-birthday treat my hubla took me to see A Midsummer Night's Dream at Bristol Old Vic. It's truly my favourite Shakespeare play, in part because of the many ingenious and creative ways theatre directors have interpreted it – the magical madness seems to allow their imaginations free rein!
Last night's performance was comical, beautiful, grotesque, eerie and wonderful – using puppets (thanks to Handspring Puppet Company) and planks to great effect.
As a special cherry on top for me, actress Saskia Portway was playing Titania (pictured left in Simon Annand's photo. Saskia once played one of my own characters, in a monologue written of Show of Strength's theatre in shops. She's a fabulous actress, so to see her as the fairy queen and Hippolyta (Queen of the Amazons!) was a real treat.
Are you an artist or do you know an artist who would like to be showcased on SkyLightRain.com? Get in touch at judydarley (at) iCloud.com. I'm also happy to receive reviews of books, exhibitions, theatre and film. To submit or suggest a review, please send an email to judydarley (at) iCloud.com.