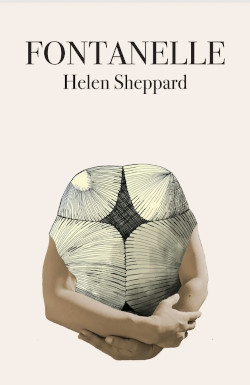 Fontanelle by Helen Sheppard opens aptly with 'Opening', a poem that deposits us directly in the most intimate of situations – a birth. We're at the business end with Sheppard, guiding a person into the world with all the gunge and wonder it entails.
And herein lies the power of Sheppard's poetry. As a former midwife, her awe at this daily miracle is evident, even garlanded in the gravy of bodily excretions. Far from shying away from squeamish sights, Sheppard celebrates them for their essential role in our most earthbound and miraculous acts.
"A gestation reaches its timely conclusion./ Her muscled hammock softens, slackens./ I am with her wet slit, hands quiet, ready."
In Safe Harbour we meet a person yet to breathe: "You flex and stretch/ and wallow in water,/ all bump and tail./ You tether, then float,/ wriggle to sea sounds".
The writing is visceral, yet tender, each layered emotion wound in with exquisite tension.
In a pair of poems, Helen draws parallels between her own midwifery experiences and her aunt Doreen's (to whom the collection is dedicated).
While one treats legs "covered in coal dust and ulcers", the other "Finds a cigarette burn on a week-old thigh."
The messages are clear: royal family headlines may change, equipment may progress, but compassion, grief, triumph and cruelty remain constant.
Sheppard delves deeper with her poem Magpies, 1880, which shines up a story of "a charcoal foundling" left on a doorstep back when talk of Africa was "always too incendiary."
Mothership shows off Sheppard's talent with calligrams, or picture poems, with a rhythmic, uterus-shaped beauty that shares the magic and alchemy of new life forming. Potentially one to turn into a print and present to new parents, and definitely one to read aloud.
Throughout it all, Sheppard offers hints of a view only a handful of us are privileged to glimpse, with an air of authority that offers reassurance through the perilous landscape of birth. In How to finger paint fontanelles, she writes: "Reach to feel skull plates shift in membranes./ Fingertips sketch overlaps, ridges moulding to fit./ Assess engagement, suboccipito-frontal diameter/ I feel vaginal wall stretch to capacity, fully dilated./Explorers, cartographers: mother, foetus and midwife."
In 'Self Portrait on Birth', Sheppard digs into her personal birth stories, sharing glimpses of beginnings in a right-aligned triptych:
"in the front room
Freddie Mercury tribute concert plays on the telly
through the bands I sway
flop over the sofa
as head crowns I remember
I don't like this bit
Bowie and Lennox sing 'Under Pressure'
I scoop baby"
At the other end of the scale, but with equal vibrancy, Sheppard contemplates her mother's final breaths: "I eat bacon butties at her bedside,/ then stroke a stray hair with my licked/ fingers. Tip five drops of pure lavender/ oil on a – no flowers, please – plastic plant."
In other poems, she offers the determined cheeriness of a nurse cleaning wounds, witnessing deaths and tending to the mentally ill, observing of a patient: "a straitjacket hugs her hollow."
In 'Hair', we join Sheppard as she endures strangers' fingers skimming "my follicle ends on buses" and withdraws "pencil javelins" thrown into her hair in a gross invasion of space excused by curiosity (aka ignorance).
'Silent Chess' artfully captures the high emotions that segue into the numbness of overload, with verses that roll and repeat lines that catch like burrs: "Family quirks once seemed ordinary/ then I burn out and stare at a road kill." The echo of a suppressed scream is audible between the words.
Amidst beauty, heartbreak, and awe-impressing everydayness, Sheppard's humour sparkles in juxtapositions, never more so than in her audaciously long-titled, collaboration with Bristol poet Callum Wensley: "A Personalised Guide for People Who Are Travelling to Rotterdam and Still Haven't Quite Decided How They Feel About People".
Sheppard's poems are full of narrative and vivid, heaving snatches of humanity where the wondrous and the ordinary meld together into great, sticky, rippled pools encompassing birth, death and everything in between.
Skilfully written with a fervency that reminds us of the fibres that connect us all.
Fontanelle by Helen Sheppard is published by Burning Eye Books and available to preorder for 23rd September 2021 from helensheppard.bigcartel.com. 5% of direct sales go to the charity Sands.
I was given this book in exchange for a fair review.
What are you reading? I'd love to know. I'm always happy to receive reviews of books, art, theatre and film. To submit or suggest a book review, please send an email to judydarley (at) iCloud.com.