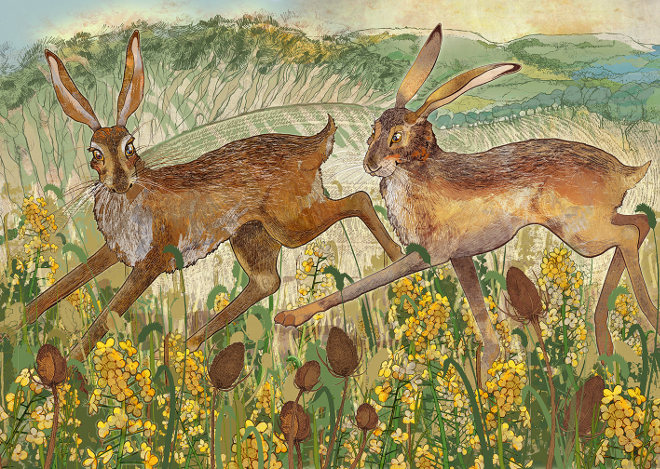 For illustrator Shelly Perkins, the natural world is full of small wonders. While otters or hares may take centre stage, every leaf, snail shell or length of seeding grass adds a swirl of beauty to her canvas, and reminds us of the wealth of life in every corner of woodland, field and river.
"My work is all influences by my love of the outdoors," says Shelly, "I spend a lot of time in the countryside, out walking the dog, riding my horse and running. I see the British landscape in all shades of colour and seasons and I am constantly getting inspiration from it."
Increasingly her work has been influenced by travels. "My husband and I are keen wildlife enthusiasts and love travelling abroad and seeing animals in their natural homes," she says. "Our trips recently have included the Okavango Delta, Namib Desert and Yellowstone national park, all wonderful places for getting inspiration for wildlife pieces."
In fact, Shelly's enthusiasm for drawing animals hasn't wavered since childhood.
"I have always loved to draw," she says. "I spent hours drawing after school, on weekends and school holidays and nurtured the art of drawing from a young age. Those early years spent mastering getting a horse's hocks right or the lie of hair on a cats face have been very important to my drawing style now. I always tell anyone who asks me for tips on becoming an artist that practise makes perfect!"
Shelly accepts commercial illustration jobs from magazines, as well as from organisations such as the national Trust, RSPB and WWF. "I am fortunate that I have now become known as a wildlife artist and as a result I get clients who commission the sort of work that I enjoy creating!" she says. "Commercial jobs are always challenging for different reasons – often deadlines are tight and clients may want a lot of input into what the illustration will include. Frequently I'm expected to represent a variety of species very accurately, which can be a challenge as I tend to create looser freer work when I'm creating work for my own portfolio."
Shelly begins a work of art by creating rough sketches "to get a feel for the composition that I want to achieve, I tend to sketch out my idea for the composition fairly small and may make several rough drawings of the same idea until I get a feeling for the movement I want to achieve through the piece."
For the final drawing, Shelly works with HB pencils onto thick smooth paper, and warns: "Timid lines will be lost in the scanning process if they are too weak, but it's important to have a balance in the depth of line to make it look flowing and varied, I try to use a rubber as little as possible and to keep the pencil really sharp at all times."
She splits the artwork into three groups: "the main characters, the background landscape and the flowers, foliage and trees that are prominent in the piece. Each drawing is finished to a high standard line drawing with details like the way the fur lies, the bark on a tree and the veins on a leaf all being included."
Colourwashes and textures give each illustration a lively, graceful finish, offering the sense of that magical moment when you glimpse a wild creature for a moment, before it disappears into the undergrowth.
"I love that each of my days as an artist are different," Shelly says. "Sometimes I'm out and about visiting wildlife reserves or visiting galleries, sometimes I'm dealing with framers or suppliers or sometimes I'm just tucked away on my own creating my work. It's a very diverse role and you have to be very proactive to keep lots of plates spinning!"
You can see Shelly's artwork at galleries throughout the UK. Find details at www.shellyperkins.co.uk.
Know an artist you'd like to see showcased on SkyLightRain.com? Give me a shout at judydarley (at) iCloud.com.