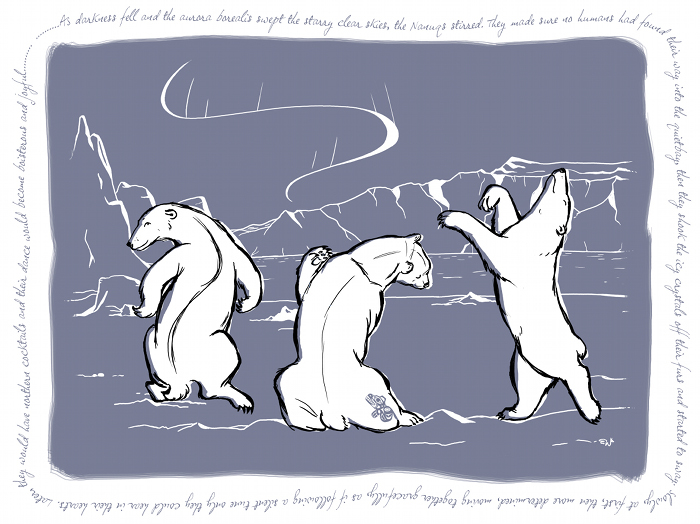 I do love an artist who is capable of extraordinary leaps of logic. While there are plenty of familiar elements to Swiss artist and illustrator Tina Altwegg's work, there are some wonderfully original skew-whiff details too.
"Part of my work has been inspired by the art of the First Nations of Canada's West Coast," Tina comments. "When visiting a few years ago, I was deeply impressed and touched by the striking clarity, strength and beauty of their designs, and the inherent spirituality, passed on over generations. Their connection with both the spiritual and the animal world just struck a chord with me."
I mention that many of the pieces remind me of native American work and she agrees. "Maybe that's because I used to be very much into the world of teepees, deamcatchers and totems when I was a teenager, and I still have an affinity for it. Nanabozho (pictured above) is based on American rather than Canadian lore, although he also sports a raven's wing, Raven being the Canadian equivalent of the Rabbit, a shapechanger, trickster and the creator of the world…"
She adds: "However, I think I'm drawn towards folklore and fairy tales in general – be this a Japanese tale of old, a mysterious Viking tradition or a legend from the Swiss mountains, and all the amazing design and artwork developed over centuries – there's an irresistible authenticity and authority in all of them."
For Tina creating art as a child felt as natural as breathing. "I was drawing from the moment I could hold a pen. It was my way of expressing myself, and I would doodle and dream on endlessly while other children got bored and went outside to play. I think I would have liked to be a full-time artist already in my teens, but soon got that sinking notion that nobody thought one could make a living with art."
Despite feeling discouraged in her late teens and early twenties, Tina knew that art needed to have a place in her life.
"I studied translation and after having worked as a PA and translator for a few years, I felt a little out of touch with the arts world," she says. "I started taking evening courses at art college, and then decided to do a foundation course to explore my possibilities in more depth. Well, I was hooked… all these possibilities to be creative, all these techniques I was learning – just fabulous!"
Tina went on to complete a degree in animation. "Once I graduated, I went on a number of work experiences, both paid and unpaid, and have been doing freelance design, animation and illustration ever since."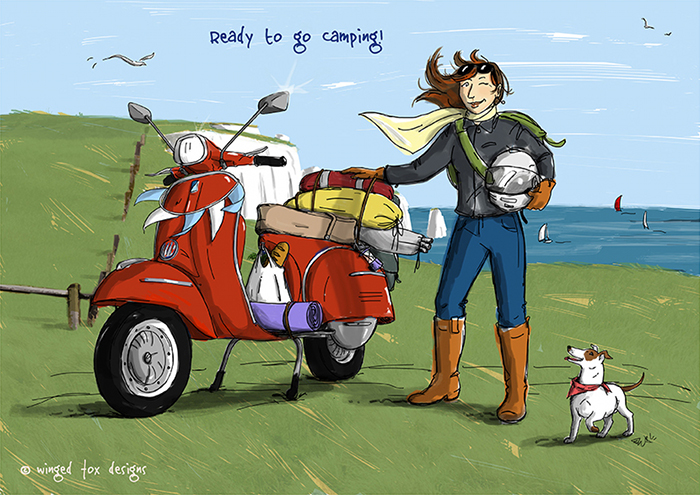 Tina has been working as a translator of German and English for 17 years now, but continues to devote as much time as possible to art – whether that's producing still pieces or animation for paying clients or creating artwork for herself.
"Sinking into that space in which creative energy is flowing is a priceless luxury that doesn't always happen easily," she says, "but I think the act of creating itself just makes me happy. Doing art, and especially drawing, has remained a way of expressing myself, of adding beauty, of making an idea or emotion visible – in my own style, my own visual language."
Her artistic style is distinctly recognisable in both still and moving form, and, as she points out, any drawn or painted work can also be animated with time and patience.  However, she says, her animation has had a visible impact on her illustrations. "Most of my images convey movement and have a certain fluidity, so there is momentum, as if taken as a snapshot," she says. "And in my animation you could say that sometimes I work too much on a single image to get it right – of course it's important to get it right on an overall level, but details in individual animation frames are less relevant than in a single still image, the frames only popping up for a split second…"
Favourite artists are many and varied. "Old masters such as Leonardo da Vinci or Jan Vermeer are just as inspirational as the inimitable Paul Klee, or Jean Tinguely, Niki de Saint-Phalle, Antoni Gaudí, Dame Barbara Hepworth, and Mark Rothko, or modern-day artists such as Silvia Ji, Zaria Forman, Jordi Labanda, Edward B. Gordon, Hugo Pratt, Gaëlle Boissonnard, Audrey Kawasaki, Pascal Campion, and photographer Lorenzo Riva, or Bristol graffiti artists Inkie, Silent Hobo and Cheo – to name but a few. This is a very broad range of artists, but what they all have in common is a certain clarity, strength and balance in their work, and a phenomenal skill to create a mood and atmosphere."
Tina has recently begun planning an exhibition that will be shown in her home country of Switzerland, for the second half of 2015, and is also painting a mural in Bristol, "although progress is a bit slow in these cold temperatures."
Tina enjoys the fact that her work has the ability to make viewers smile. "I love how people are cheered up by my drawings, and how everyone seems to see something slightly different in my work – there are some shared themes of course, but every conversation about a specific piece of work is different, has been sparked by someone's personal response, and certainly makes me expand my own perspective. That's very inspiring!"
Animals and nature evidently influence a lot of Tina's work, but more than that, she says, it's about wanting "to create an atmosphere, a sense of harmony, light and colour, and maybe a drop of humour. Often it is a random idea that pops up in my mind in a quiet moment – mostly connected to a personal notion or experience. Unless, of course," she comments, "it's a commission, ring-fenced by the client's goals."
You can find Tina's work on her website, www.wingedfoxdesigns.co.uk, at the Bristol Windmill Hill arts trail every October, and in popup shops across Bristol.
Know an artist you'd like to see showcased on SkyLightRain.com? Give me a shout at judy(at)socketcreative.com.