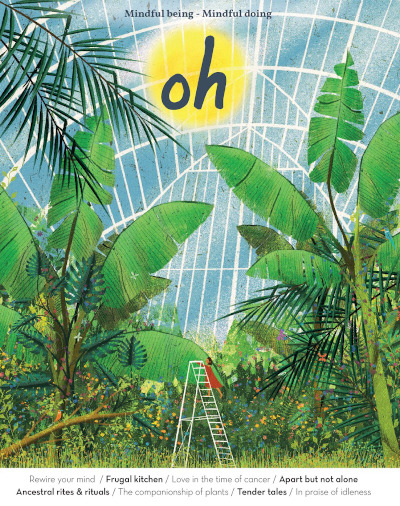 The lovely folks at Oh Magazine have invited me to create the following writing prompt, using their leafy issue 54 cover by Jago Silver as a leaping-off point.
Issue 54 is all about togetherness, solitude, and how caring for others may help us through the most challenging circumstances.
Your character glimpses a person they want to connect or reconnect with – an old friend, a person they believe could help them, someone they believe they could help, or perhaps all three.
But a secret fear or guilt is holding them back. How do they overcome that negative emotion? What does their courage lead them towards?
What do they do? What are the outcomes?
You can subscribe to Oh magazine here.
If you write or create something prompted by this, please send an email to judydarley (at) iCloud.com to let me know. With your permission, I may publish it on SkyLightRain.com.