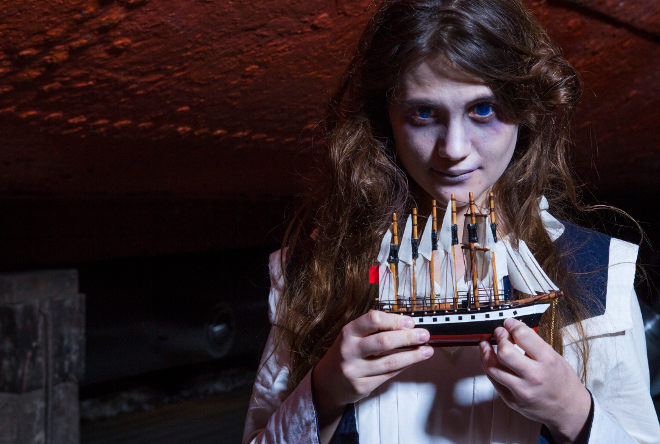 The ss Great Britain, moored at Great Western Dockyard in Bristol, is a wonderfully intriguing vessel. Populated with impressively realistic models of people and animals, it also has a hint of the uncanny about it.
Each year in collaboration with Bristol Old Vic Theatre, these characters are brought to life in an eerie succession of immersive performances that share stories inspired by real lives lost and lingering, drawn from the depths of the ship's history…This year The Spooky Ship: Shipwrecked focuses on the night in 1846 when the ss Great Britain ran aground.
Previously, I had the chance to go along, bringing a friend with me to hide behind if necessary. We were expecting something along the lines of a haunted house, but what we got was so much more, as our guide led us through the impressive architecture of the ship to witness vignettes from a pitiful bride, a broken soldier from the Crimean war (Scott Bayliss), a vengeful nun (Kirsty Asher) and a ship's butcher (Hal Kelly) who happened to enjoy his work just a little too much.
We paused in the first class dining saloon where a 19th couple (Julia Head and Matt Landau) were feasting and gossiping – all good and fine until one confessed to chowing down on a plague-ridden rat and the other commented on the deliciousness of the ship's pudding-faced cat, then turned their eyes hungrily on us.
The atmosphere was heightened by overhearing fragments from early set scenes – while Sister Benedict talked of the fallen women she despised, shrieks from the distressed soldier rose through the floor. Our guide fed us titbits of the histories that gave the performances their foundations, while cabins fitted out as they would have been in previous centuries, complete with realistic figures in the midst of their own frozen adventures, added to the creepiness.
Many of the tales pulled at the heart strings, such as that of Mrs Gray (played by Stephanie Kempson), who arrived at docks to welcome her husband Captain John Gray home only to discover he'd mysteriously disappeared a month earlier when the ship was still at sea. Her wailing grief sent shivers through the crowd.
The story of Emily Lancaster (Dorothy Collins – shown top of post) was particularly disturbing. Crouching on a flight of steps beneath the dry dock, she told us how she'd succumbed to the pox and been flung overboard before she was dead. Her anger and sorrow was palpable, enhanced by the wonderful setting.
The mix of frights, facts, horrors, dark humour and laments, all staged in and around the ship, made this a fabulously immersive Halloween voyage.
The Spooky Ship: Shipwrecked is on from 31 October until 2nd November 2019.
All photo by Jon Rowley. Find out more and book tickets at https://bristololdvic.org.uk/whats-on/spooky-ship-shipwrecked.
I'm always happy to receive reviews of books, exhibitions, theatre and film. To submit or suggest a review, please send an email to judydarley (at) iCloud.com.