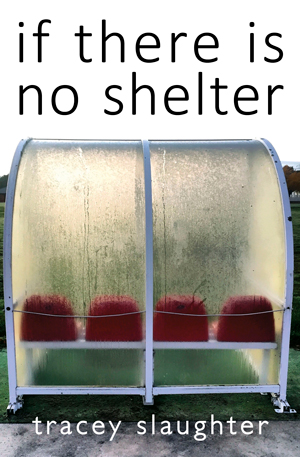 Piecing together the gritty aftermath of an earthquake in extraordinarily vivid and poetic language, Tracey Slaughter's novella-in-flash has the strength to shake you to your core.
Written entirely in the second person, she places 'you' directly inside the drama that unfolds as people count their loved ones, their possessions and their blessings. With each header a line from instructions on what to do in a disaster, she both deepens and lessens the horror through the relationships shivering around her narrator: her severely injured husband, her missing, presumably dead, lover, her guilt-stricken father and his determinedly buoyant friend Jack, who provides much of the comfort while seeking relief from his own fears through gathering and hoarding fragments of other people's shattered lives.
In "use common sense, keep calm, and follow any instructions given', Slaughter depicts the discombobulation following a cataclysm on this scale, wryly observing the sightseers venting in the narrator's dad's taxi. "They feel compassion, but also ripped off. It's like booking a luxury break in a carpark." Even in the bleakness, Slaughter serves up humour amid lines of startling beauty: "The gouge through the Cathedral roof is like a hole straight through to God."
Slaughter describes unfathomable terrors in sentences so perfectly crafted that we're standing right there beside the narrator. Her husband, being carried through a fractured hospital, is "all the emergency I could breathe." Glass is a threat: "we know it careens at you in jerks, until your freckles are lit up, red studded."
One of the novella's most devastating tales is 'a floor plan with FIRE EXITS highlighted is mounted on the back of your door', which opens with the heart-thrumming line: "It happens when you are trying to do wrong." A world of intrigue is exposed in those nine perfectly balanced words, ushering in breath-taking wreckage.
I'm almost tempted to transcribe this flash in full, to hang paragraphs in their entirety for you to marvel at.
"When you can, you run out. The minibar fridge is a landmine. Your bare feet are chattering."
"The sprinklers baptise you. The carpet is barbed, a downhill of splinters."
"People climb out with you, wearing red tape."
"All your words are smudged out by mouthfuls of shock."
Slaughter has a talent for anchoring the impossibility of intense trauma in scenes simultaneously concrete and surreal. Through shining up the small, sodden details of desolation, she renders them both familiar and strange. It's disconcerting to discover miscellanea we may see daily turned on their heads, where fish, cast from their tank, are "lip-reading" and "sound is coming through the wrong end of the telescope."
It's almost as though Slaughter is making grief palatable by disguising it in the spice of her words, but only almost, because far from neutralising the narrator's emotional pain, her fluid flashes allow us to creep closer, look more intently and feel every jolt ourselves.
Compassion holds this fractured city, and this novella, together. The narrator coaxes her distressed father closer to the house as temperatures drop, and helps an elderly neighbour understand the passing of a pet, while her father's friend Jack does what he can to rebuild his own and other's equilibrium.
"Volunteers shake each other's cruddy hands and get to know each other, side by side in the mire," Slaughter writes. Even a man who mistakes the narrator for a prostitute offers kindness.
Unspoken truths hum on the edge of hearing, and the shadow of loss, but hope too. Slaughter's writing is exhilarating, words soaring with such beauty that even as we witness lives and livelihoods splinter, we're never weighed down. Instead we're reminded of humanity's ability to soldier on and find solace glimmering in the grimmest circumstance. For a novella-in-flash to bring us that timely reminder so viscerally is a dazzling achievement.
if there is no shelter by Tracey Slaughter is published by Ad Hoc Fiction and is available to buy from bookshop.adhocfiction.com.
This book was given to me in exchange for a fair review.
What are you reading? I'd love to know. I'm always happy to receive reviews of books, art, theatre and film. To submit or suggest a book review, please send an email to judydarley(at)iCloud.com.