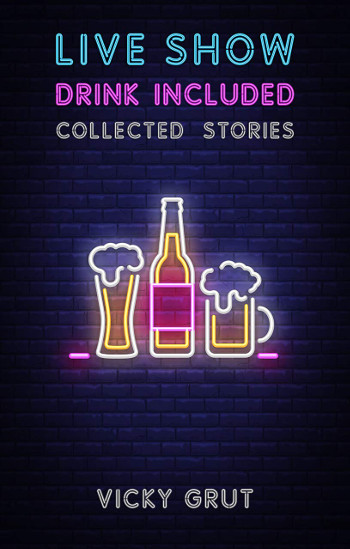 In her debut short story collection Live Show, Drink Included, Vicky Grut reveals her knack for summoning up characters so real they'll follow you around your house, loitering in your kitchen as you make a cup of coffee until you almost feel you should offer them one too. Her protagonists crackle with unspoken preoccupations that often verge on somewhat unsettling obsessions. These are people you might see marking the perimeter of a social gathering, being avoided largely due to the air of discontentment, and even, resentment, that they exude.
Yet their delivery through Grut's carefully selected words is deeply relatable. With her skilful hand, she renders them comedic, lyrical, or a shining blend of the two. We eavesdrop and enjoy their conundrums while being glad, for the most part, not to share them.
The opening story, In the Current Climate, situates us in an office where a visit from head office takes a sinister turn. When a woman is evicted forcefully from the building, and protests that her medication is in her bag upstairs, she's told: "There'll be a doctor on duty where you're going."
It's the "where you're going" that's so chilling. Where on earth is she going, if not home?
More alarming is her colleagues' response as, grasping for some sense of justice and normality, they suggest that her frantic panic could mean she's actually an addict of some kind. "Addicts were notoriously unreliable. They told lies – even lies about their health. They could be blackmailed. That would explain a lot."
Grut is skilled a winding a whole life into a single line of exposition. In Debts, we meet Wilson – "the sort of person who couldn't button his shirts in the right order but could tell you about quantum physics if you had a few hours to spare."
Her descriptions are visceral and clammily evocative, not least in An unplanned Event where we're treated to a deluge of memories: "the periwinkle taste swimming in the municipal pool", and "the slippery pink tang of the girl he'd gone with in that alley."
Aside from their intrinsic awkwardness, the key trait her protagonists share is their courage, bordering at times on belligerence – a hunger to demand more than they've been given. It takes them into spaces and situations where they don't belong, and which may be perilous to escape. It keeps you threaded through with a palpable sense of unease that races up and down your spine.
Yet for all that, it's Grut's sensitivity towards her characters that draws you in. It's clear that she cares about these people and their struggle to do the right thing and get better at doing that. That compassion is contagious – you can't help but worry about them too.
For me the most powerful piece was the non-fiction essay Into the Valley – a beautifully nuanced and tender portrait of Grace, a woman shuffling towards the final moments of her life. "The truth is that none of us knows what's ahead. (…) We don't know how to read what we see in front of us. We've never been here before. We have no maps. We are badly lost."
The honesty of that statement is almost shocking – it recognises the fear that sits within every mortal, sentient being. And yet, in the sweetness of her writing, the evident affection and humanity, Grut also reminds us that love it the vital antidote to that dread – the comfort that sustains us, no matter what.
Live Show, Drink Included by Vicky Grut is published by Holland Park Press and available to buy from Amazon.
Seen or read anything interesting recently? I'd love to know. I'm always happy to receive reviews of books, art, theatre and film. To submit or suggest a review, please send an email to judydarley(at)iCloud.com.