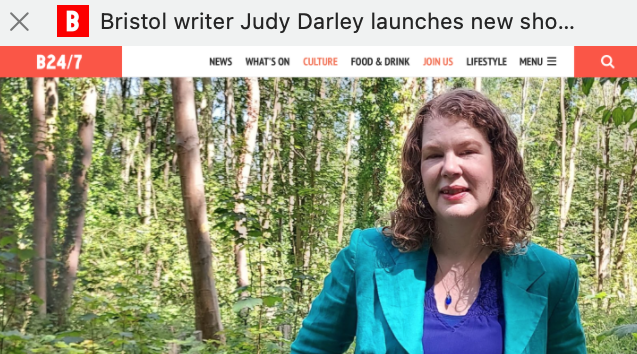 Ahead of my book launch and literary night for my new short story collection The Stairs Are a Snowcapped Mountain, I wanted to share some of the press I've received.
First up is a write-up by Sarski Anderson, Culture Editor at Bristol 247. The feature offers lots of insights into how I used fiction-writing as a sanity-saver during lockdown.
"For Darley, walking and writing became a vital tool through which to process her emotions about what was happening in the wider world at the time, and to channel the people that she saw on her daily strolls: "from the woman howling beneath a tree in Victoria Park, who features in Leaf after Leaf, to the child whose mum is a key worker in The Rules of Contagion, which includes a hopscotch grid drawn on a path in Perrett Park".
Why Rivers Run to the Sea gives voice to rivers, a physical representation of the urge to escape that Darley occasionally felt during the early days of the lockdowns.
She notes that curiously, as a writer, the narrowing of her personal horizons actually served to add new depths and greater complexity to her work. It was a powerful means of escape, into an inner world. "Writing gave me a chance to zigzag through memories and daydreams, and allowed me to recast my anxieties in a form that I could adapt and control in the shape of fantasies that became short stories."
The feature also includes a complete flash fiction from the collection.
You can read the full feature here.
Review
This new collection of short fiction, the third from Judy Darley, is ambitious. Stories explore the pandemic and possible consequences on our mental and material wellbeing, our relationship with the natural world and the accelerating impact of climate change, alongside both the struggles and joys that arise between siblings, parent/child and lovers. They range from a few thousand words (The Daughters) to just one line (Elegy), traveling across genre and form. Sci-fi, cli-fi, dystopias, utopias, realism, magic realism, surrealism, absurdism, all mixed up to offer a breathtaking range of astute social commentary and emotional complexity.
Interview with Bristol Life magazine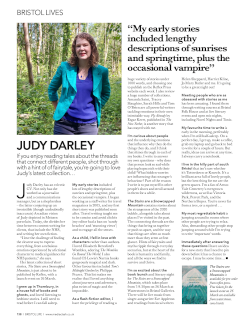 I was interviewed by Deri Robins of
Bristol Life magazine
about my writing and reading loves for their prestigious back page spot. Deri asked some brilliant questions about my writing background, from growing up in a house full of books to learning to be concise and avoid cliches through my work as a travel writer. As a journalist myself, it was fun to be on the other end of the scrutiny for once!  
You can read the feature here
 or
online here
.
She writes: "Judy Darley has an eclectic CV. Not only has she worked as a journalist and a communications manager, but as a shepherdess – the latter conjuring up an irresistible (though undoubtedly inaccurate) Arcadian vision of Judy depicted in Meissen porcelain." Now, doesn't that sound like a perfect writing prompt?
Get in touch!
If you want to know more about my writing, about The Stairs Are a Snowcapped Mountain book launch & literary night or would like a review copy of The Stairs Are a Snowcapped Mountain, please send an email to judydarley (at) iCloud (dot) com. Thanks!