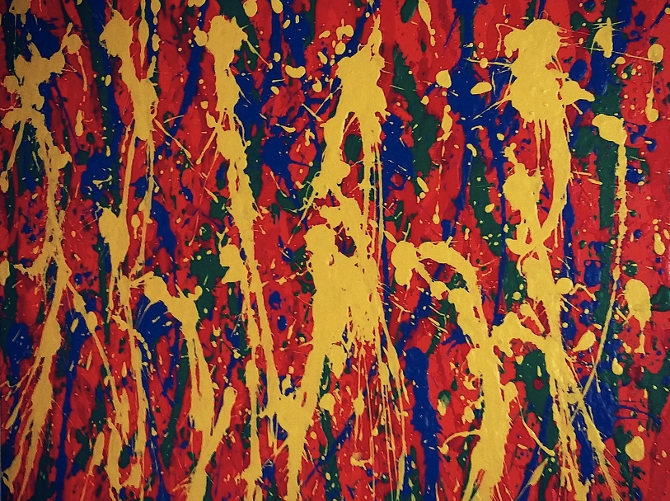 I initially encountered artist Oliver Needs at The Other Art Fair in Bristol's Passenger Shed, where his vivid abstract canvasses sang out from his booth like barely controlled visual explosions.
"I developed my abstract style was after painting in a range of styles, and learning and trying out a range of techniques," he explains. "I love painting and looking at paintings from most centuries. Impressionism and Abstract Expressionism are particularly influential art movements for me."
For Oliver, part of the thrill is the chance to continually learn from the paintings he creates. "My abstract style seems to be still developing, but I often focus on memories and emotions and try to translate this into my painting," he says. "I express a variety of feelings from the sense one gets walking in nature to that of going out in the busy night life of central London. Each painting tells a different story."
Prompts to start a new work are mainly rooted in Oliver's emotions. "I am inspired to make art by the sheer feeling of excitement like a child gets when going into a sweet shop, that sense of variety and colour and joy and happiness," he enthuses. "Another example would be that of going to the fair ground where each ride offers a new and exciting experience and buzz. Being a creator and artist has ups and downs but the ups are of sharing positive energy and art with others, just as a great musician does with an audience, making a positive difference to our lives."
The process of creating paintings such as Tutti 1 and 2, shown above, usually begins with choosing a base colour, which Oliver layers onto the canvas as it lies flat on the floor. "I then add relatively fluid colours, which I drip or splash onto the canvas, so to speak, rather like Jackson Pollock did as he has been captured in film and photograph a lot."
The colour choices themselves are a vital component. "Of course, colours have subliminal effects on the mind and therefore, depending on my mood, will change accordingly," Oliver explains. "I will try to let myself go up to a point and choose each colour according to how I am feeling at a particular moment, but also considering what I feel will work with well with the previous colour applied onto canvas."
He admits that this method is often therapeutic on one level, but adds: "It's also some kind of internal journey or release. I enjoy the interplay between the colours and lines, just like different chords in music."
Recognising when a painting is complete can be a challenge. "Knowing when to stop or finish a painting can be a little perplexing but generally it is just about getting a sense of balance and knowing that the colours and movement of paint sits well," Oliver says. "I guess this is just an artist's intuition."
Oliver will be showing his paintings at Parallax Art Fair in Chelsea Town Hall, London from 19th-21st October 2018.
Find Oliver's work at instagram.com/needsoliver/ and oliverneeds.com.
Are you an artist or do you know an artist who would like to be showcased on SkyLightRain.com? Get in touch at judydarley(at)iCloud.com. I'm also happy to receive reviews of books, art, theatre and film. To submit or suggest a book review, please send an email to judydarley(at)iCloud.com.
SaveSave