Claire Trévien is adept at gloriously unexpected turns of phrase. Signs of early life include "collapsed/ arks, kicked in the groin." History has been shoaled and mouths "left unzipped."
Reading the poems of her latest collection, Astéronymes, published by Penned in the Margins, makes me feel we're embedded both in modernity and in the past. At one point she mentions: "There's a spectator in my boot", bringing to mind contemporary paranoia and the more innocent species of bug in one neat line.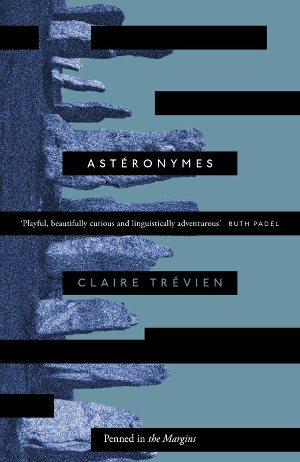 More obliquely, she comments: "The grass here is the kind of green/ that can only exist after rain/ or a monitor failure."
The collection title works beautifully with the dense and varied contents, referring to the asterisks used to hide a name, or disguise a password.
There is a sense of Trévien playing games, not only with words or sentence structures, but with our expectations, as in Azahara [edit] and The Museum of Author Corrections. In the latter of these, we're presented both with a poem and a response to it, which is at least in part critical. It's disconcerting and amusing, as well as giving the illusion of insight into the poet's process.
A series of Museum have taken up residence on the pages, offering glimpses into ponderings on sleep (including a magical line in which "selkies bump against the hull", waiting, shared meals and more, reminding us that every element of human life is worthy of examination.