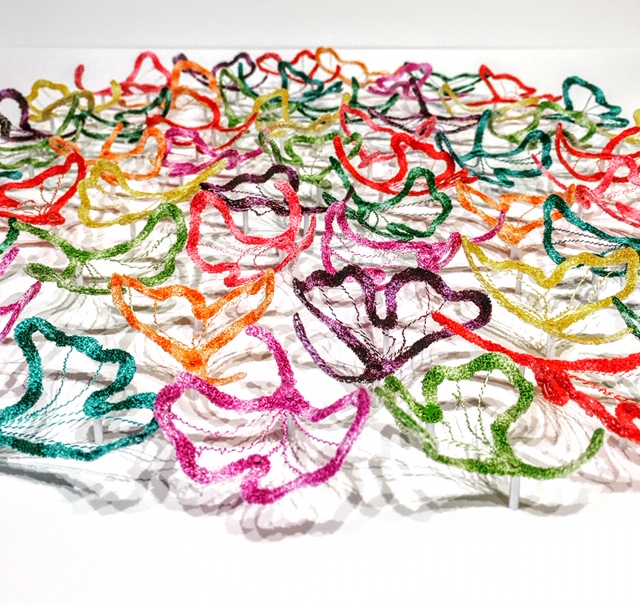 My first impression of Shuya Cheng's embroidered artwork was of encountering an elegant form of climbing plant, with tendrils and foliage in a lip-smacking array of colours. Clusters of leaves, petals, moss, coral, shells and tide-manipulated seaweeds are mounted onto crisp white surfaces where their shadows add another layer of design.
This eye-catching approach took Shuya some time to develop, she admits. "It took me a long while to find my artistic niche," she says. "In my early twenties, I worked as a general assistant to a fashion designer in Taiwan which taught me a lot about creativity and having and working towards a vision. I then trained and worked as a graphic designer for a period of time. In terms of my current art focus, I'm self-taught with a lot of trial and error and the assistance of the internet where a lot of artists generously share their techniques. I am also an abstract painter and I bring this abstract element to all my embroidery work."
I'm impressed by Shuya's exquisitely delicate stitching, and ask her to describe her methodology.
"My work is free-hand machine embroidery created by spending hours over a sewing machine stitching intricate designs on to water soluble material," she explains. "This is then dissolves and I shape, arrange and pin the embroidery in a shadow box (a deep picture frame also called a box frame). Much as I would love to lay claim to having developed the techniques, there are a number of artists out there using and sharing these techniques."
Shula says she was initially drawn to the deceptively simple appearance of this technique. "I seek to take a physical structure such as a leaf skeleton and through the process bring an abstract element which makes the viewer pause and take a closer look at the intricacies. Pinning the works in shadow boxes allows me to introduce a living 3D element with the shadows changing along with the light."
She adds: "For me, the 3D effect created by the shadows brings the piece of art to life. Stillness and movement are integral parts of each piece. They are floating; they are moving; they are alive."
Finding a man-made or natural structure that will translate successfully with Shuya's desired results can be surprisingly difficult. "Sometimes inspiration does come spontaneously but most of the time it involves hours of research looking at photographs. Occasionally I get lucky – on a beach in Northumberland I found a fascinating piece of kelp root which served as the basis for a piece of work."
Laying the foundations for each piece of work of art is a painstaking process. "Shaping and arranging the embroidery, whether a single piece or a number of individual pieces, takes almost as long as sewing," Shuya says. "I spend a long time manipulating the embroidery so that the individual components come together as one piece."
Shula begins by envisioning the finished piece in her mind, "which helps me work purposefully towards my goal. It is almost a form of therapy. However, inevitably surprises, and occasionally disasters, occur at various stages. These can lead to the thrill of an unexpected outcome. The moment I finish and sign the work and complete the framing brings a sense of closure and calmness – at least until I start thinking about my next design! My work has to speak to me and I hope therefore it will speak to others."
Shuya exhibits at art fairs across Bath and Bristol, including the Combe Down Art Trail, Widcombe Craft Fair and Art Trail, Front Room Totterdown  Arts Trail and Cam Valley Arts Trail. "The last two Christmases I have exhibited in the Bath Humbug event hosted by the 44AD gallery. I have also exhibited at a number of open exhibitions including the BSA Open Exhibition at the Victoria Art Gallery and Visions of Science at the Edge, University of Bath."
She also notes that an online presence is essential these days. "I try to post regularly on Instagram and Facebook with regular updates of what I am working on and upcoming events. My website www.shuyacheng.com is a good starting point for anybody who wishes to find out more about my work and my artistic journey."
Are you an artist or do you know an artist who would like to be showcased on SkyLightRain.com? Get in touch at judydarley (at) iCloud.com. I'm also happy to receive reviews of books, exhibitions, theatre and film. To submit or suggest a review, please send an email to judydarley (at) iCloud.com.