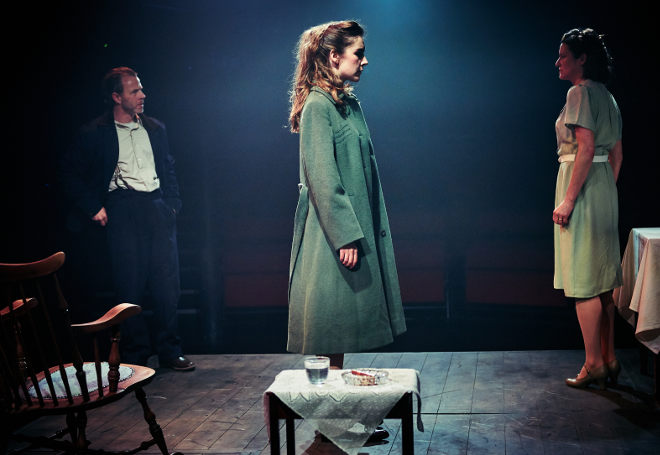 Arthur Miller's powerful human drama examines the loves and loyalties that can threaten to destroy us, if we let them have their way.
In the second production from Tobacco Factory Theatres' inaugural Company season in Bristol, director Mike Tweddle has forged a suspenseful examination of the layers that make up a family, and the forces, both internal and external, that can threaten it.
Eddie Carbone works tirelessly at the piers of 1950s' New York to provide for his wife Beatrice and the niece, Catherine, he has raised as a daughter.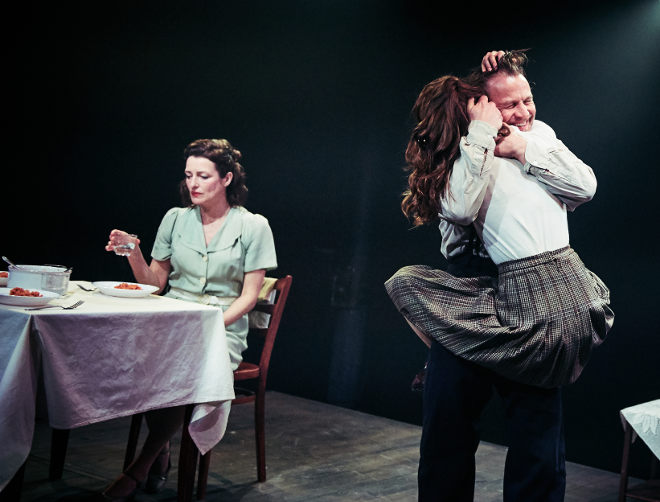 Catherine is seventeen, almost a grown woman, and Eddie's protective side is struggling with the fact she's increasingly attracting admiring gazes as she walks down the local streets. If he had his way she would remain a child forever. "Katie, you are walkin' wavy! I don't like the looks they're givin' you in the candy store. And with them new high heels on the sidewalk – clack,clack, clack. The heads are turnin' like windmills."
Actor Mark Letheren inhabits Eddie as a man seething beneath the surface, while projecting himself as a man at ease within his neighbourhood and adept at out-manoeuvring any difficulties that arise.
Everything accelerates when his wife's cousins arrive from Italy as desperate illegal immigrants.
A distinctively pared-back set by designer Anisha Fields represents the Carbone home and dockside – with just a few blocks, chains and sparse pieces of furniture, a whole world is conjured. As meagre as Eddie and his fellow pier-workers' incomes are, these are the wealthy relatives compared to those still in Italy, where jobs are so scarce that babies are fed water when they cry.
The two men who arrive couldn't be more different, despite being brothers. As Catherine points out, one is as dark as the other is light. And as Eddie observes, "Marco goes around like a man," while his brother, Rodolpho, played by Joseph Tweedale, prefers to sing, cook and sew – details that palpably discomfort Eddie.
Catherine, on the other hand, is instantly charmed.
Laura Waldren, fresh from Bristol Old Vic Theatre School, is a delight as the beloved niece who unwittingly sets this story on its tragic journey. Lively and expressive, she portrays a young girl struggling to grasp the changing expectations of her. "It's wonderful for a whole family to love each other, but you're a grown woman and you're in the same house with a grown man. So you'll act different now, heh?" urges her aunt Beatrice (a beautifully nuanced role from Katy Stephens, last seen as Lady Macbeth in The Tobacco Factories' breathtaking first Company production).
Eddie's disturbed when Catherine and Rodolpho begin to spend time together, and believes Rodolpho is only after the papers he needs to begin his US citizenship. But his distrust, his wife believes, is less to do with Rodolpho than his own feelings towards Catherine.
Alongside this is Marco (played by Aaron Anthony, (another Bristol Old Vic graduate, who played Banquo in the afore-mentioned production of Macbeth), who says far more with action than with words and bristles with unspoken levels of familial devotion and angst.
This is a story of possessiveness and machismo, where a man's good name is worth the world. As Eddie's fear of losing Catherine rises to the fore, his humour disappears and we see a man riddled with jealousy. The transformation isn't a pretty one. Eddie becomes a man trapped within his own lies to himself, building up an elaborate network of reasons for not wanting his niece to be with Rodolpho.
Simon Armstrong as Alfieri the lawyer says, it was "a passion that had moved into his body, like a stranger."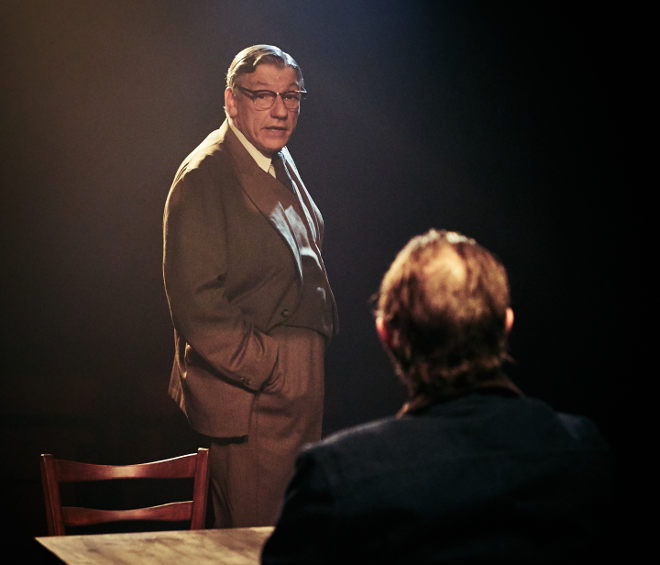 There are moments of sheer majesty in the production – scenes that will stay you, resonating with unuttered tension. A chair lifted is a warning from of one alpha male to another, while a few lines of a song can make you shiver with the richness of the loss echoing in the space.
All images in this review are by Mark Dawson Photography.
A View From The Bridge is on at Tobacco Factory Theatres in Bristol until 12th May 2018. Book tickets and find out more: www.tobaccofactorytheatres.com/shows/view-bridge-arthur-miller/
Seen or read anything interesting recently? I'd love to know. I'm always happy to receive reviews of books, art, theatre and film. To submit or suggest a review, please send an email to judydarley(at)iCloud.com.