Have you ever taken a journey on a piece of art? Now you can take an epic ride on one of Vilnius' trolleybuses covered in contemporary art. Running for the second consecutive year, the Painting Routers art initiative has transformed five trolleybuses into Vilnius, Lithuania, into canvases painted on by five teams of well-known young artists from Lithuania and Estonia.
"The novelty of using public transport as art lies in the subjectivity of painting and its corporeal and incorporeal duality rather than  in the trolley's medium as something new and unexpected," explains the project's coordinator Darius Jarusevicius. "The aim of Painting Routers is to question the stable  identity of painting and the sustainability of its corporeal actualisation, and to highlight the nomadic nature of art."
The idea of Painting Routers sprang from art duo Polyrabbit.Duplicate (Inna Shilina and Darius Jaruševičius). "Our painterly practice is based on duplication and the repetition of our own paintings on different mediums: animation, digital  appearance, corporeal surfaces with very different densities and situations of exposition," says Darius. "It was a dream of the Polyrabbit.Duplicate duo to find means of creating visual art in non-static public spaces. When we hit on the trolleybuses was the answer, it became clear that it would be good not only for our own painterly practice, but for contemporary painting in general, so we invited more artists to join in."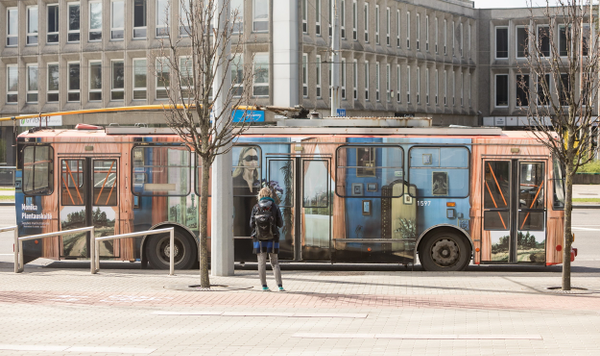 Artists involved in the project for 2018 include Goda Lukaitė, Donata Minderytė, Monika Plentauskaitė, Alexei Gordin, Kazimieras Brazdžiūnas, Vita Opolskytė, Kristina Ališauskaitė, Rosanda Sorakaitė, Kristi Kongi, and Rosanda Sorakaitė.
This year's Painting Routers initiative aims to encourage dialogue on the #metoo movement, femininity, sensations, and sexuality. "A real-life social media wall will revert back to digital when people share their experiences of the Painting Router works, creating a cycle," says Darius. "Taken out of the galleries, the art becomes accessible to everyone."
The trolleybuses will be riding  the streets of Vilnius until October 2018, offering plenty of time to spot all five works and ride each one as the mood takes you!
More information about the project and about tourism in Vilnius visit www.vilnius-tourism.lt/en.
SaveSave
SaveSave