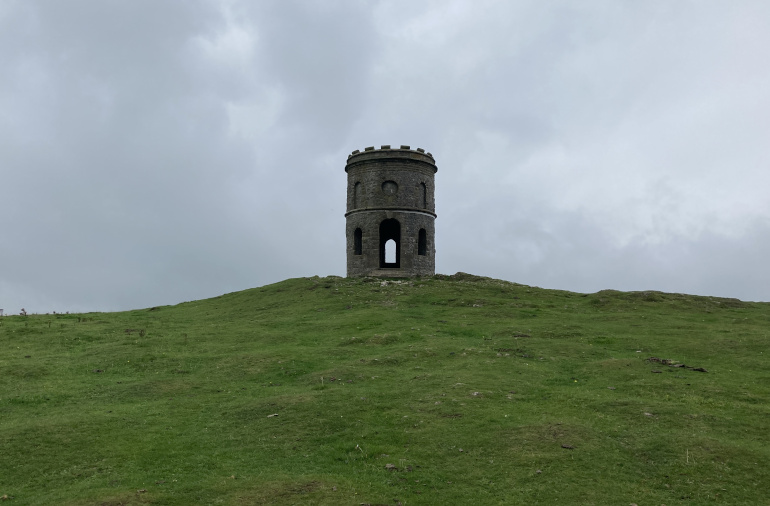 I have a fondness for Victorian follies. Imagine having so much money that nothing pleases you more than to spend it on a building no one can live, work or create in? Well, possibly you could do all three, but with gaping windows and nothing to prevent gale winds whistling through, Solomon's Temple on Grin Low Hill in Buxton would not be the ideal spot to focus on anything other than the outstanding views.
I also love the fact that this Grade II-listed, 20ft-high edifice is so blatant about it purposelessness that it's actually defined as a folly. While some claim it was named afterSolomon's Temple in Jerusalem, others say it replaced the ruins of a tower built by Solomon Mycock, a local farmer and landowner, and is named for him.
Other intriguing details include the fact that it sits atop of Bronze Age barrow, where several skeletons were unearthed when it was built in 1894.
When I visited, the interior was puddled with cow dung. A winding staircase leads up to the tower's viewing platform.
Imagine being the person who commissioned this folly. What prompted their need for this hillside statement? Who did they want to impress?
Who designed it? What criteria were they attempting to meet?
Any why build it on top of a Bronze Age burial chamber?
So many directions you could rattle off in from this curious construction!
If you write or create something inspired by water, please send an email to judydarley (at) icloud.com to let me know. With your permission, I might publish it on SkyLightRain.com.