I'm excited to be taking part in Retreat West's online flash fest that's happening on Saturday 5th and Sunday 6th March.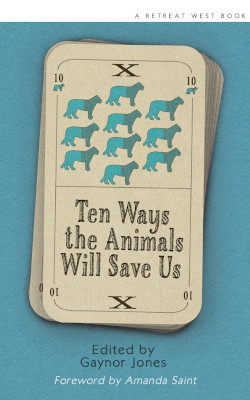 There are inspiring events unfurling all weekend, including the launch of 'Ten Ways Animals Will Save Us', Retreat West's tenth birthday anthology, which contains one of my climate fiction flashes, 'Fishing for Green and Blue'. The anthology is crammed with amazing stories from spectacular authors, on the theme of 'ten'.
The anthology launch is at 10am, when the festival begins. Writers who will be sharing their anthology stories at the festival include Sara Hills, Martha Lane, Amy Barnes and Edward Barnfield.
Unfortunately I'm not able to attend the launch, but I will be there for a panel discussion on Sunday:
15.15 – 16.15 – LITERARY JOURNAL EDITOR'S Q&A
I'll be answering questions and sharing insights from the perspective of my flash fiction editor role at Reflex Press, along with Christopher Allen of Smokelong Quarterly and J. Archer Avary of Sledgehammer Lit.
Find full details of this energising literary weekend here.
I hope to see you there!
Got a literary or arts event, challenge, competition or call for submissions you'd like to draw attention to? Send an email to judydarley (at) iCloud (dot) com.