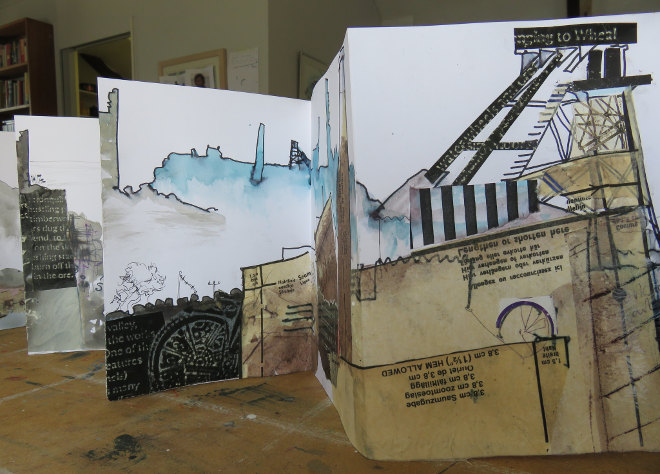 The art of Karen Stamper is the kind to stop you in your tracks, pause and lean in. Seen from a distance, it's a beautiful mass of colours and suggestions, but a closer view offers up a wealth of textures and hints, thanks to Karen's love of collecting found objects and putting them to excellent, satisfying use.
"My grandma was a traveller and a collector," she explains. "I would spend many hours of my childhood looking through her tins of trinkets, postcards with exotic stamps, tapestries and dolls from foreign lands." She adds with a grin: "I was always more fascinated by the foreign newspaper wrapping a doll than by the doll itself."
Early forays into art were largely an avoidance exercise. "My Sunday night homework time would involve drawing and collaging, always to avoid the more tedious subjects," she says. "It wasn't long before my parents noticed this and encouraged me to keep a sketchbook, enter competitions and paint bright murals on walls around the garden."
This encouragement fuelled Karen's interest and gave her a strong foundation in creative explorations.
While on a collage travel scholarship in Paris, Karen first fully recognised the true potential of colours. "I discovered turquoise shutters, red chequered tablecloths and curling iron balconies: shapes and colours so frivolous to me growing up in the worn, tough, solid fishing town of Hull," she says. "It was in Paris that I saw Matisse's cut-outs for the first time; it wasn't just the scale of his work but the colours, pin holes, crease lines and torn edges that fired my imagination. I continued to travel and work overseas for 10 years, always with a sketchbook."

A childhood "growing up on the east coast of Yorkshire as a happy beachcomber," seeded Karen with a deeply rooted love of shorelines. "I was, and still am, attracted to the faded painted wood, scraps of gaudy plastic, brightly coloured fishing floats and nets: all sun dried, sand blasted, salted and weathered," she says. "My dad's passion was sailing, and each Friday we would pack up and spend the weekend on the coast. I was free to wander, explore and collect only returning at mealtimes. This freedom set my path."
It's a path she remains true to today. "Old boats, harbours, the sun-salty smell of tarpaulin and diesel, and the sound of halyards tapping on a mast, are all comforting childhood memories. They have stayed with me and I still naturally gravitate towards the harbour in any coastal town."
In over ten years of travelling and working overseas, Karen gradually developed a blend of collage, painting and sketching that is very much her own. Throughout her nomadic decade, she was "constantly sketching and collecting a rich resource of tickets, labels, packaging, stamps, paper bags and scraps of lettering – each one telling its own story – scraps of city life ready to become the first layers of a collage."
Karen settled in New Zealand  for a couple of years, where she worked as a freelance illustrator for magazines and book covers, including her hoard of collected treasures in her designs.
"Working in collage, combining the found papers with layers of brightly painted tissue to create a vibrant integrated surface, reflects my life and travels: a patchwork of places and people bonded together; some fading, some peeling, some permanent; all full of joyful colour and happy memories," she says. "My aim has been to remind the viewer of warmer climates of intense colours, hazy zapping heat and sun scorched walls. More recently I have focused on the urban shoreline in the UK. I am drawn to the rusting, paint peeling structures which lend themselves well to cut and ripped paper."
Far from being arbitrary, the materials that make their way into Karen's work are carefully selected. "I usually start with found papers on the theme that I am working on," she says . "For example, in a French scene there could be stamps, envelopes, letters, posters, shopping lists, house sale papers, teabag labels, napkins, matchboxes and chocolate bar wrappers, all in French, of course. Stranger materials have included a Spanish fan, dried hessian tea bags, and spaghetti."
In building up the images, Karen starts with colours and shapes from her sketches and photographs. "I usually zoom in on scenes so the view is flattened and abstracted, and then add text in different fonts, sheet music, patterns and then layers of painted tissues and washes of acrylic paint," she says.
At this point, memories or themes relating to a place start to emerge,  "and so the compositions starts to evolve. I am happy with bold abstract areas next to real or recognisable imagery. Viewers need a little clue into the 'scene' but then I would like them to make their own story."
To Karen, "life is a collection of experiences – I need to collect, layer and absorb the places I visit – the colours and the countries are embedded in my artwork and in me."
Karen says that she feels most grounded when working in her studio in Cambridge, "totally focused, creating a piece of work that sings. The visual energy of composition, colour and surface of my work feed my soul. From beach comber to city comber – I'm always seeking, gathering, arranging, sorting, storing, enriching and sticking." 
You can see more of Karen's work at Byard Art Gallery, Cambridge; The Darryl Nantais Gallery in Linton, Cambridgeshire; The John Russell Gallery in Ipswich and at The Cambridge Art Fair on 1st-2nd October, as well as on her gorgeous website, www.karenstampercollage.com.
Know an artist you'd like to see showcased on SkyLightRain.com? Give me a shout at judy(at)socketcreative.com.