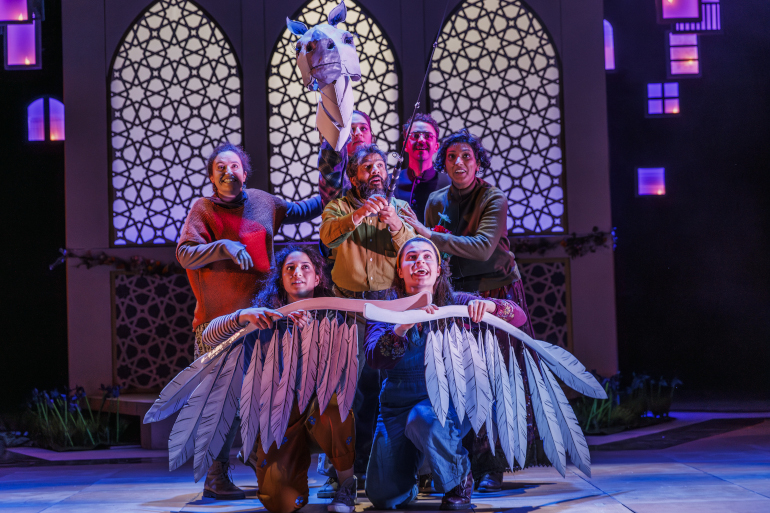 Bristol Old Vic has a tradition of staging festive productions that transport us to other worlds, with colour-infused sets and costumes, modern twists on familiar tales and a dash of humour to keep the audience enthralled.
Writer Sonali Bhattacharyya and director Blanche McIntyre have delivered in full with Arabian Nights, treating audiences to an imaginative production packed with characters designed to win hearts and jolt emotions.
With contemporary references and ironies sprinkled in, including mention of TikTok and a mobile phone as a gift for a girl who would prefer a bag of lentils, the central messages are the power of stories and of working together.
When Schere heroically takes the place of a neighbour to become the King's next wife, she breaks a pattern the peevish king has been wedded to since his wife left – marrying a woman and then casting her into the palace dungeon the very next morning. At this point, we are told, around 100 ex-wives languish in the dungeons. Schere is determined no more women will be sacrificed to the King's broken heart, and intends to keep the King's attention with stories, with each nightly tale ending on a cliff-hanger.
Yasemin Özdemir as Schere is a force to be reckoned with, fearless and determined to help the King learn to be a better person. Sara Diab as Dina portrays Schere's younger sister, deftly demonstrating her blossoming from a person who's always believed they're less than their sibling, and discovering her own courage.
As the King, Nicholas Karimi brings to the stage a character who is both comical and terrifying – basically a toddler who might have you thrown in the dungeon if you fail to serve him the dinner he demands.
As the King's whims empty the sea and rob his people of food, hope begins to flourish in the form of candles glowing in the windows of parents in gratitude for their daughters who have not been summoned to marry the King thanks to Schere.
Yet when Schere is asked to make one final sacrifice, it's more than she can bear.
Hannah Sibai's set is gloriously realised. Simple windows hanging in mid-air to represent the village, and an ornate trio of windows as the palace, with atmosphere painted with lighting from the talented Nao Nagai.
And, yes, Samuel Wilde's puppets are magnificent – relying at times on the full eight-strong cast to work the horse in flight, an extraordinary serpent and the tentacles of a leviathan.
Family sits at the heart of the tale, with Schere and Dina's dad Maruf (Saikat Ahams) desperately trying to keep his daughters safe. We're never told what happened to their mother, only that they miss her and set a place for her at meals. I thought she might appear in a moment of crisis, but in the end she is only a memory. The neighbours join in to help, however, and show that family can be more than biological.
One wonderful strand in the production is the discovery that the ex-wives are far from passively awaiting rescue, and are instead busily striving towards their own great escape.
It's an apt reminder that while the stories we see ourselves represented in can empower us, we ultimately have the ability to write our own stories and be an active player in our own triumphant tales.
Arabian Nights is at Bristol Old Vic until 6th January 2024. Book ticket from £10 (plus concessions) here.
Cast
Saikat Ahams as Maruf
Ajjaz Awad as Gulab/Umm
Sara Diab as Dina
Roxy Faridany as Maryam
Nicholas Karimi as The King
Patrick Osborne as Jafar
Yasemin Özdemir as Schere
Arinder Sadhra as Rahiq/Zara
Everyone else
Writer Sonali Bhattacharyya
Director Blanche McIntyre
Designer Hannah Sibai
Lighting Designer Nao Nagai
Sound Designer & Composer Oğuz Kaplangı
Movement Director Aline David
Puppetry Designer and Consultant Samuel Wilde
Casting Director Christopher Worrall CDG
Associate Director Melina Namdar
Costume Supervisor Anna Dixon
Associate Puppetry Designer Hannah Southfield
Puppet Maker Izzy Bristow
Puppet Maker Bryony Harrison Pettit
Puppet Dresser Katy Hoste
Placement Maker Jessica Miller
Placement Maker Blue Harrison
Fight Director Annie Mackenzie
Have you watched, seen or read anything interesting? I'd love to know. I'm always happy to receive reviews of books, art, theatre and film. To submit or suggest a review, please send an email to judydarley (at) iCloud.com.