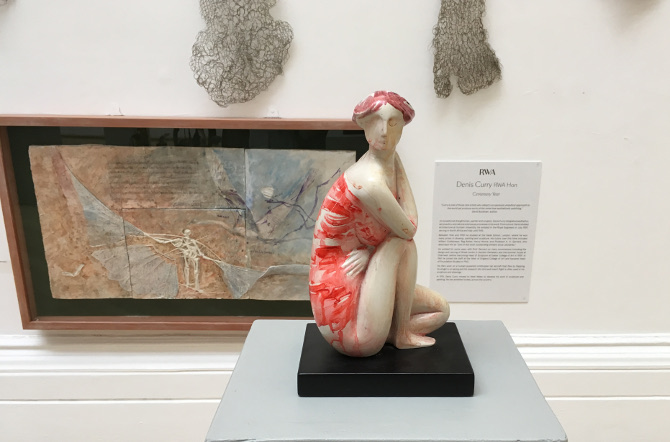 The galleries at the Royal West of England Academy (RWA) have a grandeur about them that rivals many of the world's finest art museums. Their annual open exhibition opens up those spaces to any artist with vision and talent. I adore the democratic nature of this annual show, where anyone can submit their work for the possibility of seeing it selected to see it hang or stand among notable creations ranging from the famous, to the infamous.
The 166th open exhibition lives up to those aims, with paintings crowding walls to the extent that at times you'll be crouching, and at others balancing on tiptoe. Inevitably, this leads to some being more difficult to view, and more than once, I was asked by older gallery visitors to read out the small notices revealing artist and exhibit name.
Sculptures gathered in unexpected groupings too, from totem-esque found and assembled materials, to a transparent bin bag crammed with what resembled rubbish, amid elegant creations such as Yurim Gough's Four Elements. Invited artists Jock Mcfadden RA and Carol Robertson provided anchor points, while the RWA's own Academicians offered some familiarity.
The whimsical Octavia (below) by Caroline Taylor summoned up memories of myths – we sorely wanted to take her home, but found had already sold. Other favourites included Clouds, Fields, Moor by Andrew Hardwick and John Huggins' Daydream, shown at the top of this post.
In other instances, it was human figures who enchanted us, in ceramics, bronze, ink and paint. A quizzically tilted head or the choice of a cabbage and pigeon as a crown was enough to elicit charmed giggles.
Altogether, despite the number of landscapes and abstracts on offer, this is a very congenial exhibition. The majority of the selected items brim with personality. Whether inspired by human, by animal or by a playful or startling blend of the two, the artworks on show given the impression of freezing momentarily as we enter, and continuing their conversational chatter after we depart.
The less characterful creations are, for the most part, equally enticing. I saw a child zone in immediately to this sculpture below, drawn by its bright colour and resemblance to a familiar toy.
To me that's much of the magic of an assembled exhibition like this, where serious themes give way to the joy of originality. It invites us to remember the delight of creating – of letting our imaginations loose to rambunctiously play. This is an open exhibition that celebrates art in all its forms, and invites us to bring our own openness to the mix.
Until 25th November 2018 at the RWA, Bristol.
Seen, read or experienced anything interesting recently? I'd love to know. I'm always happy to receive reviews of books, art, theatre and film. To submit or suggest a review, please send an email to judydarley(at)iCloud.com.