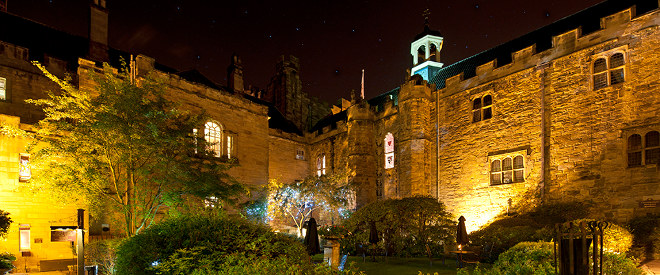 I love a spine-chilling, skin-tingling old fashioned ghost story, especially with Halloween almost upon us. If you're seeking an inspirational spot to retreat to this All Hallows' Eve, it seems Britain is rife with unsettling options. Just think of the inspiration you could glean for your next eerie tale!
Hoping for a heart-rending haunting? Head to Lumley Castle Hotel in County Durham (pictured above). Legend has it that in the 14th century the lady of the manor, Lily Lumley, was chucked down a well, and continues to trawl the castle grounds and corridors after nightfall.
Over at Coombe Abbey Hotel in Warwickshire, a 12th Century Cistercian Abbey, the tranquility is disrupted by an unearthly Hooded Monk, said to be the ghost of Abbott Geoffrey who was brutally murdered in 1345. His cloaked figure has been seen wandering the formal gardens designed by Lancelot 'Capability' Brown and causing mayhem with poltergeist activity in the kitchens.
If the monk doesn't make your heart lodge in your throat, look out for a green-eyed girl known as Matilda, rumoured to be the spirit of a stablehand taken advantage of by the master of the house. When he refused to accept responsibility for her pregnancy, Matilda cursed the house, and still storms through the rooms, slamming each door she passes through.
The Langham in London boasts the capital's most haunted hotel room – room 333. Since it opened in 1865, it's said to have been as popular with the dead as the living. Look out for a silver haired gentleman wearing a cravat – the ghost of a Victorian who murdered his wife and then killed himself while on their honeymoon at the hotel. Charming.
Then there's Redworth Hall Hotel, Darlington, a Georgian manor house standing in 150 acres of woodland. If you book a night here, you could encounter the ghost of a jilted lover and hear the sound of ghostly children crying throughout the building.
Just the thing to ensure a night of sweet dreams.
Happy Halloween!
Find full details of all these hotels at www.laterooms.com.