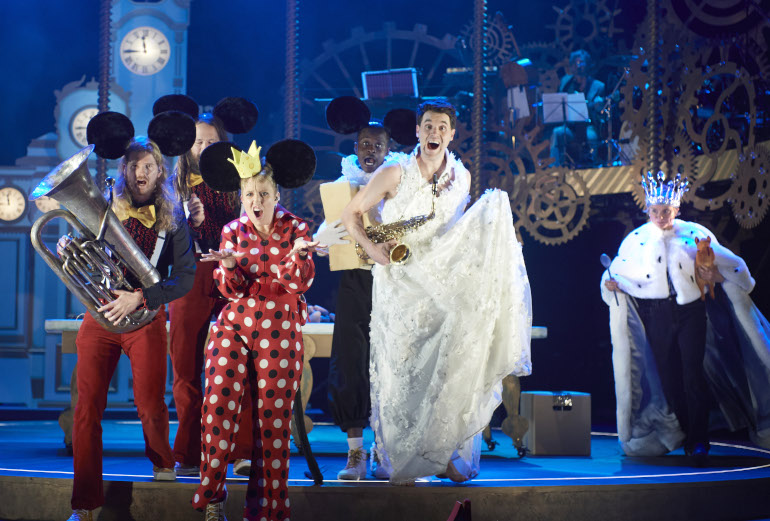 At the start of Bristol Old Vic's seasonal extravaganza The Nutcracker, Claire is struggling to make herself heard in a household where Mum is still working late on Christmas Eve, her brother Eddie is absorbed by his handheld device and her dad is occupied by his own fantastical ideas to listen to his daughter's worries about her imaginary unicorn Charlie. But then a mysterious visitor comes to the door, describing himself as a nutcracker maker and seeking the person who wants change. He give Claire a nutcracker doll who, she soon discovers, is very afraid, and all because of a mouse.
Director Lee Lyford, writer Tom Morris and lyricist Gwyneth Herbert serve up a rambunctious, colourful family show, with time stretching, skipping backwards and offering Claire a view of a tragedy she believes she can and must undo.
The set and lighting by Tom Rogers and Anna Watson draw us into a psychedelic world of enchantment where almost anything is possible, with clock-faces reminding us that time is precious, even on Christmas Eve when you might be wishing the hours away.
Tristan Sturrock as the mysterious visitor holds the audience, and time, in the palm of his hand, evoking our empathy and keeping the other characters on track as he relays his tale of errors in judgement resulting in a magic-wielding mouse queen (brilliantly conveyed by musical director Gwyneth Herbert) seeking revenge. Mae Munuo as Claire is convincingly child-like, curious and eager to do the right thing, even as she comes to understand how challenging identifying what the right thing to do can be. She also has a clear, powerful singing voice.
The whole cast bring energy and verve to the stage as most they portray multiple characters. Some of the most comical are Claire and Eddie's discarded toys, among them a blue pants-wearing Action Man (Guy Hughes, who also plays ten-year-old Eddie and saxophone-playing Princess Curly Pearly utterly convincingly), Baboon with a Spoon (an impressively loose-limbed Patrycja Kujawska, who also plays Claire and Eddie's mum as well as Queen Spoon), and Dog, the toy Claire likes least – a detail never explained (Kirris Rivieré, also Claire and Eddie's dad and King Sausage).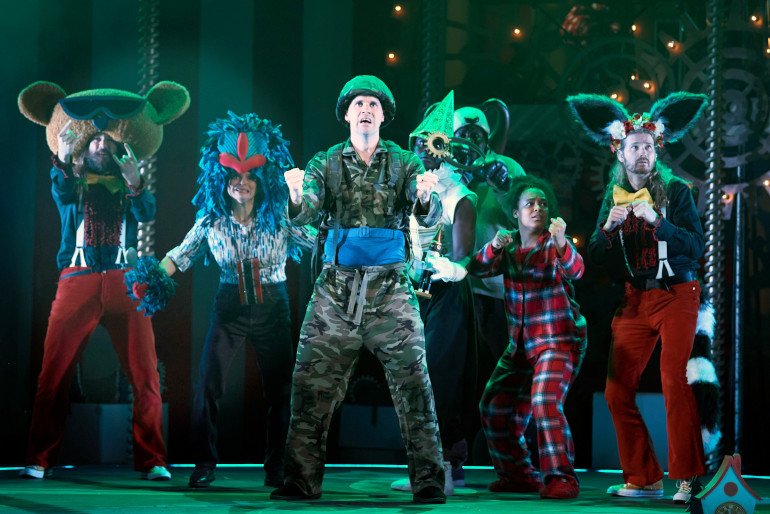 Even musicians Harry Bird and James Gow get in on the toy chest action, playing a chocolate-obsessed rock star teddy bear and a lovelorn long-tailed lemur.
The title role is played by Denzel Baidoo, in the actor's remarkable stage debut. His complex emotional narrative comes over beautifully, complemented by his dance moves choreographed by Laila Diallo. The dance-off between The Nutcracker and the Mouse King (Tristan Sturrock) is a particular treat.
The Nutcracker teaches Claire, the nutcracker maker and the audience that to understand what needs to change, if anything, you must first see, and treasure, what's really in front of you.
But this somewhat serious message is by-the-by when you're taking in the glorious cacophony on-stage. With musicians and dancers populating the cast, it's no wonder that this is a festive feast for the ears and eyes.
Photos by Geraint Lewis
The Nutcracker is on at Bristol Old Vic until 7th January 2022. Find out more and get your tickets.
Seen or read anything interesting recently? I'd love to know. I'm always happy to receive reviews of books, art, theatre and film. To submit or suggest a review, please send an email to judydarley (at) iCloud.com. Likewise, if you've published or produced something you'd like me to review, please get in touch.