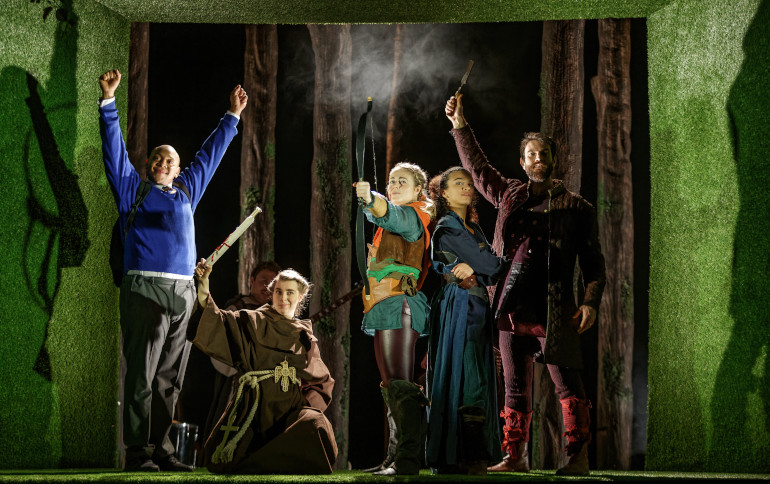 Seeking a festive show with love, laughter and unexpected poignancy? Attending Bristol Old Vic's Christmas show is a firm festive tradition for many families, and 2021's offering meets and surpasses all expectation. In collaboration with the Wardrobe Ensemble, this retelling of Robin Hood is as imaginative and visually spectacular as you'd expect. In the hands of directors Tom Brennan and Helena Middleton, the production also unexpectedly moving in a way that ensures it lingers.
We open with twelve-year-old school boy JJ (played brilliantly by Dorian Simpson, who succeeded in making me forget his six-foot+ frame so that at times I was truly concerned for the little child's safety). JJ is a die-hard fan of Robin Hood and, as mentioned in a passing comment, of Oceans Eleven. When he opens a mysterious handwritten book about his favourite folk-hero, he is magically transported back in time to the 13th century.
What follows is a glorious mash-up of medieval adventure and Hollywood heist. If you've seen any of the Wardrobe's previous film re-imaginings, you'll be unsurprised by how beautifully this works.
Robin's Merry Crew have long since disbanded due to a tragedy no one wants to talk about. That leaves JJ with the task of getting the gang back together, which requires family man Will Scarlet (a witty and urbane Tom England), a really angry Maid Marion (the convincingly lethal Katya Quist), and drunken, gambling Friar Tuck (embodied by Jesse Meadows with fabulous comic aplomb).
But the first task is to convince Robin Hood that she actually wants to step back into the role of hero.
Bristol Old Vic and the Wardrobe Ensemble are never too concerned about sticking to gender norms, and in this case , Kerry Lovell is the perfect casting for the troubled ex-outlaw as she unwillingly reunites with her former friends under JJ's ebullient insistence and absolute belief.
JJ's determination that they should all wear bright green tights adds to the visual humour (not least at Meadows Friar Tuck somehow manages to tuck her robes into hers, creating the portly figure earlier incarnations have presented.
The Sheriff of Nottingham is on the brink of celebrating his 29th birthday for at least the second year, while fleecing his subjects of every hard-earn penny. With a page-boy wig that keeps his evil persona comic rather than terrifying, actor James Newton expertly crafts a spoilt but deadly rich boy who craves love but only knows how to inspire ridicule and fear.
There are nods to the film productions JJ and much of the audience grew up with, as well as more modern movie and TV references, not least a sing-off and a dance-off. Look out for Will Scarlet ascending from above the stage in a lime-green body suit, plenty of sword-fighting from Robin and the Sheriff, and some exceptional slow motion running from the full Merry Crew. There's also an outstanding kiss that will make you want to cheer.
Original compositions from Tom Crosley-Thorne alongside some familiar tunes had the audience clapping along, and there was a sense of being part of the story throughout.
This is a hugely enjoyable theatrical extravaganza crammed with jokes, drama and a few tears as well as a strong message about friendship and self-forgiveness. Exactly what's needed on a dark winter's day.
Photos by Craig Fuller.
Robin Hood: Legend of the Forgotten Forest is on at Bristol Old Vic until at 8 Jan 2022. There are specific socially-distanced performances, signed, captioned, relaxed and audio described performances during the run. Find out more and get your tickets.
Seen or read anything interesting recently? I'd love to know. I'm always happy to receive reviews of books, art, theatre and film. To submit or suggest a review, please send an email to judydarley (at) iCloud.com. Likewise, if you've published or produced something you'd like me to review, please get in touch.