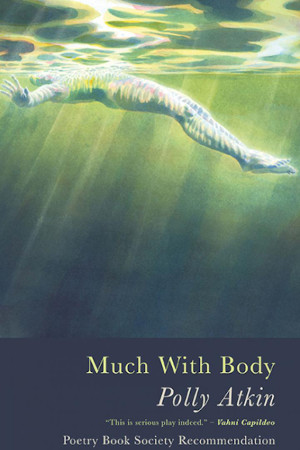 Book Balm recommendation: Read to remind yourself to pause and pay attention to your natural surroundings.
From frogs and toads ambling into her home to the herons glimpsed nearby to the imposed quieter times of lockdown, Much with body by Polly Atkin is a reminder to take a breath, open your eyes and observe.
In Lakeclean, Atkin immerses us in the magic of wild swimming. The lines are dizzyingly visual and elemental, while hinting at the freedom and physical relief offered fleetingly in water, as opposed to time spent on land. Atkin alludes to the joy of  being: "released from the tyranny of gravity", dwelling "in transparency", and sweeping "mountains aside with our arms without wincing."
Notes from a transect offers series of determinedly hopeful snippets, each of which works as a standalone poem. In What's Under Your Feet she records: "One school wins a visit from a scientist. When she asks/ does anyone have wildlife stories to share?/ the whole school put up their hands." In Windows we glimpse "Those lightless days when pain/ keeps you in, under, and the feeder/ at the window is the only source of movement/ you count birds."
The book is divided into three parts, with the poet's passion for a wide variety of wildlife highlighted in the first section, found poetry plucked from Dorothy Wordsworth's late-life diaries in the centre (a soothingly conversational focus on rain, rain and more rain), followed by a deeper dig into the poet's chronic illness in the final third.
Yet each of the poems is threaded through with the natural wonder of the Lake District, with lines that take the seemingly small and encompass within it an entire universe. For instance, in Charismatic Animals a nearby lake is described as a grandmother: "She hides galaxies in her core with her gilly heart/ as huge and heavy as a moon."
In Mountain, we're reminded that geological formations are evidence of early trauma: "It says, this is where it hurt,/ once, a long time ago. Earth/ could have forgotten. Stone remembers." It's jolted me to read those lines and realise how easily I take hilltops for granted without considering the violence they resulted from.
In the final section, Epiphany Insomnia caught me on hooks so distinct and recognisable that I almost experienced Atkin's pain. "We are quarantined/ somewhere between a vision state and an open-edged dream." The word choices are succinct and visceral – I feel that open-edge could spill over into waking hours.
In Paper Pellets, Atkin is asked about her book, and she wonders: "do they mean/ the book [I'm] writing or the one in which [I] live?"
Low ripples of laughter are delivered throughout too: "the cat/ unsettled" by the insomniac poet's "catlike watchfulness"; the fact that leeches "leave a bitemark like a peace sign."
Refreshingly, the poet doesn't take herself too seriously, but seems instead to invite us to join her in marvelling at nature's beautiful oddities, including our unknowable selves.
Much with body by Polly Atkin is published by Seren Books and available to buy here.
This book was given to me in exchange for a fair review.
What are you reading? I'd love to know. I'm always happy to receive reviews of books, art, theatre and film. To submit or suggest a book review, please send an email to judydarley (at) iCloud.com.