Over the years, Bristol Old Vic has set expectations high with its inventive, ingenious takes on classic Christmas shows. The production of A Christmas Carol met those hopes head on with a bundle of exceptional touches:
A multi-talented cast
Infectious music
Light audience participation
Magical lighting
Creative sets
Impressive puppetry
Gender swapping
Tick, tick, tick, tick, tick, tick and tick.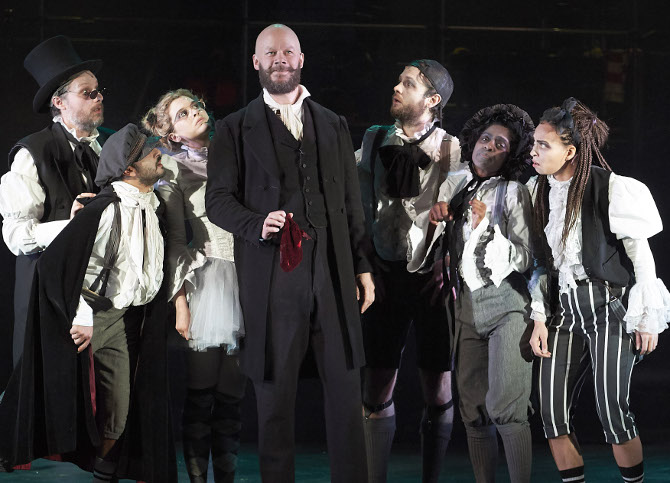 Adapted by Bristol Old Vic's Artistic Director Tom Morris, Dicken's spooky, marginally gloomy tale of redemption is revved up into an exultant spectacle. Scrooge is misanthropic and menacing (helped by actor Felix Hayes' height and undeniable stage presence), but delightfully droll. Wry asides ensure that at times we're almost on his side for eschewing the glitz and kitsch of Christmas in favour of a bit of peace and quiet…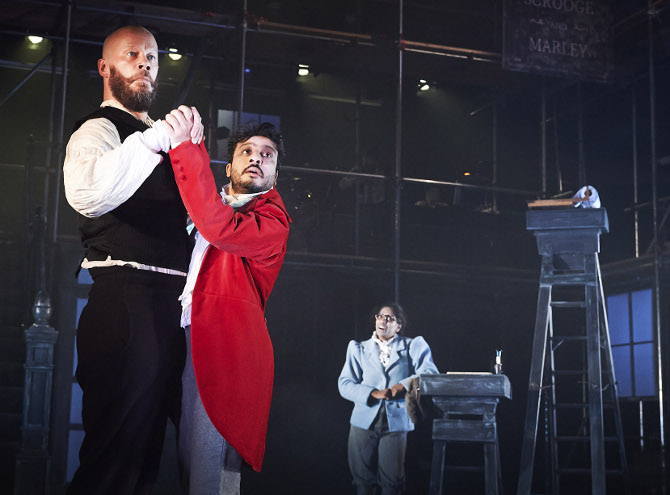 Nadia Nadarajah's Bob Crotchet, shown far right above, converses entirely in British Sign Language, which serves both to enhance the physical exuberance of her performance, and to keep Scrooge at one remove as he struggles with and largely turns from what he refers to as "wavy hand language", at least initially.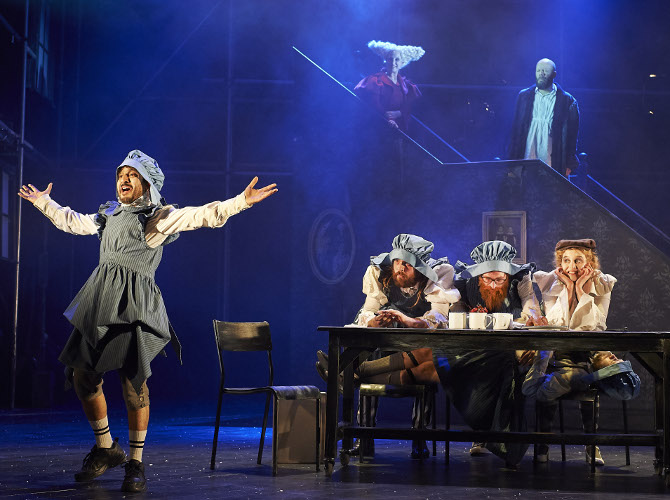 The majority of the cast members play multiple roles, with the audience invited into the theatrical mischief – snow is delivered in handfuls from the top of a rolling staircase, and when stepping from his nephew Freddie's home to that of the Cratchit family, Scrooge passes Freddie the bonnet belonging to Mrs Cratchit, commenting, "You'll be needing this", and reminding us of actor Saikat Ahamed's dual role.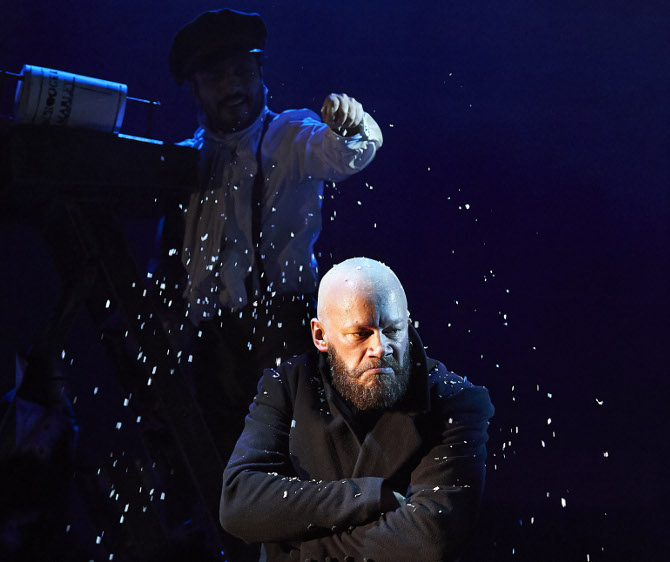 More doubling up occurs with several of the ensemble also providing the original musical score, right up to musical director and composer Gwyneth Herbert, who also plays the Ghost of Christmas Present.
Designer Tom Roger's set is equally adaptable and dynamic – as well as the staircase mentioned above, there are doorways on casters and Scrooge's four-poster bed, with Anna Watson's skilful lighting adding atmosphere in spades. Humour is woven throughout, but never more so than in the scenes of revelry, including the Fezziwigs Christmas party where dance moves include flossing. The British Sign Language for 'dance' is incorporated as another enthusiastic move.
Audience participation  includes a brief singalong near the end, which, while fully optional, gives the audience a chance to release some of the giddy joy that has inevitably been building up throughout.
In many senses, Dicken's story is a moral coming of age tale. With the Bristol Old Vic treatment, this production ramps up this theme, as Scrooge is reminded of the power of the imagination he's set aside since his school days, as well as the love he let slip by and the value of human connection.
A gorgeously rambunctious and imaginative production.
Production photography by Geraint Lewis.
A Christmas Carol is on at Bristol Old Vic until 13th January 2019. Find out more and book tickets.
Seen or read anything interesting recently? I'd love to know. I'm always happy to receive reviews of books, art, theatre and film. To submit or suggest a review, please send an email to judydarley(at)iCloud.com.