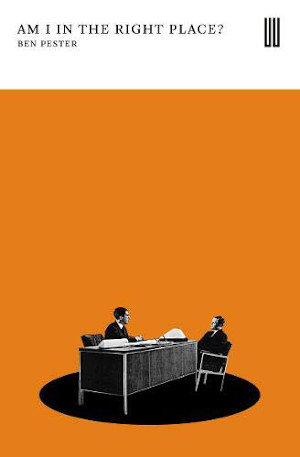 If your preferred reading place and time is in bed before sleep, you may need to develop new habits for Ben Pester's debut collection Am I in the Right Place? Seemingly ordinary settings (a café; an office) twitch with unreliable edges that threaten to upend into the unknown. Cupboards open into other worlds, and roads lead to versions of memories that encroach on the present in unexpected ways.
We open with a character waiting to meet his ageing father, and then spooling into a journey where anxiety lingers with such a palpable presence it almost takes on human form.
Later in the collection, in 'Low Energy Meeting' a line manager introduces us to the embodiment of his love, a sorrowful figure in a dingy dressing gown.
Emotions here have powers to shift our surroundings, making every step uncertain. What was floor moments ago could now be a hole with an insatiable appetite.
Some pages, dyed black from corner to corner, abandon us to our rattled thoughts only quieted by the rustle of us scrabbling to get to the next printed words.
Other tales invite us to engage in more overt ways, as in 'All Silky And Wonderful' in which an ordinary commute takes a nightmarish turn. A paragraph instructs: "Imagine a man. He would've captained the rugby team – a kind, deep-voiced man. (…) He's gracefully greyed. He's married. He has the same friends he's had since he was in his teens. (…) You have just imagined Big Andrew."
Pester plays with words in a way that's often simultaneously beautiful and grotesque. Music can be "fibrous" and a tunnel become "like a kind of lovely ear canal." It contributes to the overarching surrealism of the universes he draws us into, often accompanied by an uneasy impression that there may be no route back out.
And even when it doesn't take centre stage there's a sense of calamities occurring on the perimeters. In 'Rachel Reaches Out', the protagonist's aching eyes are either due to have slept in her contact lenses or, more worrying, "because of the negativity had found its way into her maisonette." In Pester's tales, moods impact physical structures and encroach on working environments as detrimentally as weather anomalies.
Pester challenges us to re-examine the parameters we take for granted by taking commonplace settings and imbuing them with unsettling oddness. He seems to seek out the most discombobulating ideas to examine, as if by looking at our unarticulated dreads and fears, and in many cases giving them physical form, we can find relief from them, even as our skin creeps with the concepts he webs onto the page. While most of us endure tedium and routines on autopilot, Pester seeks out parallel narratives that both make a sort of skewed sense of the madness of modern life while highlighting nightmarish possibilities.
Even our assumptions about familial, platonic and romantic love are tested by the questions Pester raises. "People think they are extraordinary because they are surrounded by love, but human beings will love anything," notes the assessment officer character in one of Pester's most tender stories, 'Mother's Day Card from a Wooden Object'. This story, an utterly original twist on Pinocchio, asks us to reconsider our narrow definitions of motherhood with refreshing audacity – the main character's mother chooses her child and all other characters accept him as such, because she does so with such staunchness.
In his writing, Pester is an explorer attempting to make sense of the world, workspaces and relationships we inhabit. His unwavering gaze is both disturbing and invigorating. Read it and you may never again enter an office without every nerve on high alert.
Am I in the Right Place? by Ben Pester is published by Boiler House Press and available to buy here.
This book was given to me in exchange for a fair review.
What are you reading? I'd love to know. I'm always happy to receive reviews of books, art, theatre and film. To submit or suggest a book review, please send an email to judydarley (at) iCloud.com.